Wednesday, March 30, 2005
What do here, stays here: A Story about Two Days and a Night Feeling The Good Life

Subic's ambiance would definitely unleash me from the strains I've been experiencing this summer. I left Kenken at Jourd's place, hoping that he would be well taken care of. First stop was Subic Yacht Club to check-in our luggage. Miracle beach was next to be conquered. Chilling with my girls at the cottages, "sticking" our hearts out and having decent Kalibog and Malice drinks were definitely worth every tan we were getting. Shore was perfect; the water was cool enough to satisfy the sun's heat. Every grain of sand that stuck between my toes was like a strike of relief from the evils in Manila. Cameras were certainly handy. Our cottage was isolated from the rest and we got the beach all to ourselves :D Literally swam with the fishes and sunbathed with the hermits. We waited for sunset and bid the beach goodbye.

Had moonlit dinner at Piere One and what made the night hot and rewarding was our stay in Sibil Subic. First ones there, not expecting anything special to happen, Vince and Duncan Ramos approached us. They were there not for a gig but simply to relax themselves from work. They came elsewhere to compose a new song, as usual, inspired by the out of town vibes of the place. The girls moved to the beats of trance while the boys showed off their break dancing skills in R&B and hip hop.
After sweating all out, we chilled with them back in our hotel room from 2:00-6:30 AM. We continued our thing, this time, twice the fun. Jaffa Mudslide was new in the menu. Like what Vince said, "Doug, come out here we're having a blast!" Sleepy Dun got up to play. Acapella sounds system was great; it was like having an exclusive SB concert at our veranda which was overlooking the view of the bay (lol). There came up a different definition of girl bonding :) For some reason, I won't elaborate any further. Guys, we'll be waiting for your next video entitled....

The next morning, we saw Robots at Times Square, they all fell asleep excluding me. Unexpected pictorials at Cre8tive Studios afterwards so we were really underdressed. We just ended up being after the natural "summer" look. I'll post them here once published next week. Went to Jourd's party house to get Kenken back. He missed me but he's nagtatampo :( Jourd told us that it was her happiest birthday. I'm glad we made it that way for her :D Read in her blog that she has regrets to what happened. Well I think it's human instinct to feel that way the first time. She immediately got over it, though. As what Jourd said, leaving all the memories inside room 329 is best for the band and for the girls, as well. But we'll definitely see you again on April 8 or on our next chillax at Dun's crib :)

Loved every second of it. I'm still stressed because of these sleepless nights. But it's definitely the anxiety I want to deal with.

Mood: finding a piece of me :)
bidding Kenken goodbye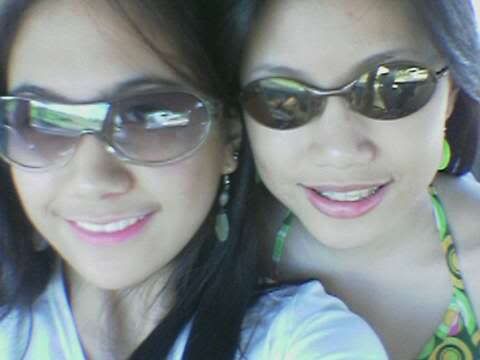 on our way to Subic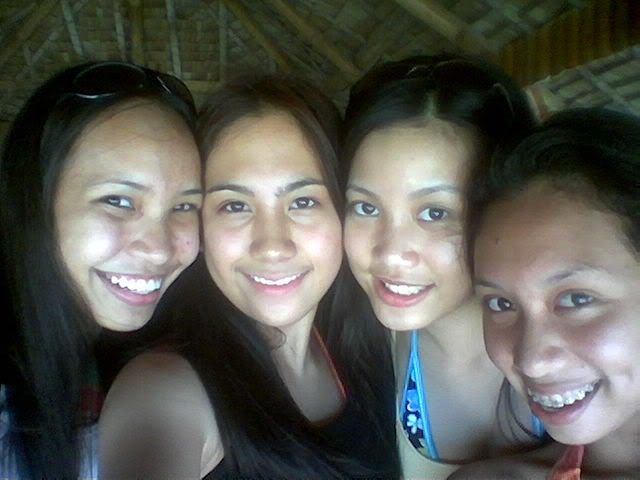 at the cottage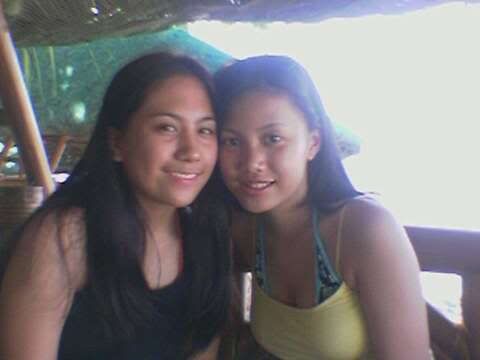 at the Beach :D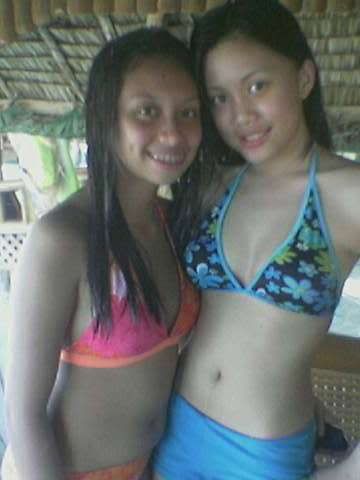 Jourd and I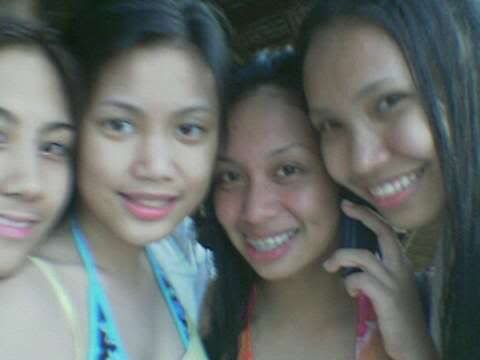 Kim, Me, Jourd, Vea
Piere One
More next time
-Tinay
11:37 PM links to this post |
Monday, March 28, 2005
Had to pick up my retainers and man, do I hate it!!! It's worse than having braces, wearing them is like having peanut butter stuck at the roof of your mouth. >:( Went to G4 afterwards alone. I missed shopping by myself- no hesitations, disputes and arguments over a piece of clothing. I really enjoying doing so because whenever I shop with Mike, he always has some valid reason to convince me not to buy a certain thing :D Kristine,Xandra and Kenji came an hour after exhausted because they were caught driving a color coded car. Courtesy of Chavit Singson, they managed to get away with it :) Needed to go home early. There wouldn't be anyone to take care of Kenken. I don't want to put my complete trust on the guard.
Bye for now :D
-Tinay
8:02 PM links to this post |
Sunday, March 27, 2005
Managing to be me :)

I am Ma. Katrina. I cannot fully claim that I am simple. In fact, I live in the complexities of life trying to analyze every question in the book. I am not born to rub elbows with the stars. My life is not told to a child like how stories of princesses are. Am not to live happily ever afters in an ending. I am not from the planet where prom queens and goddesses are made.
So how do I exist?.. How could one possibly go on getting noticed only when she does wrong?Could you tolerate waking up every morning knowing how your day would probably go? Let me tell you mine... (in a third person's point of view)
She gets up every morning (late afternoon, rather) because of the irritating movements the dog has been making. She impatiently demands for brunch and feeds the dog, as well :D She hears news about how perfect a friend's date went. She also hears how great her kabarkadas' relationships go about this summer. Because of this, she reminisces the attached days but smiles at how she handles to move on even a little. She turns on computer and tries to answer a number of "consistent" questions from her Q. Box. She replies to a couple of messages and lets out what bugs her in her little blog.
She is Tinay. I am Tinay. I am not where the celebrities breathe but I'll be someone else's star. Not even from the paradise where good deities dwell but someone could make one with me. I am not destined to a "happily ever after" but I know I'll have a pleasant ending. Not from the land of prom queens and ideals but soon I'd be someone's perfect princess living the never ending happy ever after..... That's about me...
-Tinay
3:46 AM links to this post |
Wednesday, March 23, 2005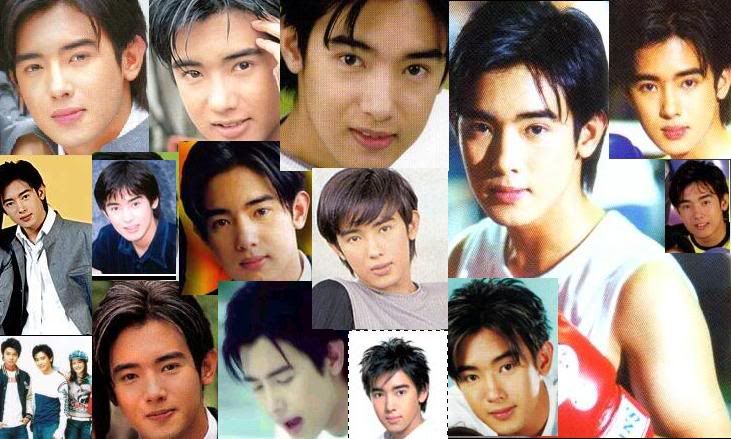 Yeah, you don't know him but I do. And I miss him more than ever. I'll wait for you until you come back! Can't wait till August (for my birthday, too)!! :D Miss you bigtime...
-Tinay
11:43 PM links to this post |
Getting more conceited than I am
Mike left for the States awhile ago and left his dog, Kenken to me together with a list of instructions. It just so happened that the maids are out for the Holy Week so I need to do the dirty stuff for the pup- you know, cleaning up the poops :D Have to wake up early in the morning to set his breakfast and sanitize the mess he made the previous night. Yeah, I'm obliged to do so. I promised my mom I'll do the grubby work. And hey guess what I think I'm getting used to it! :D The Pomeranian is so vain and responsive. He doesn't sleep in non air-conditioned rooms PLUS it is a must that he sleeps beside the owner. He only eats expensive canned dog foods and he requires you to cuddle him all the time- or else he gets sick :D I'll be stuck with him for the Holy Week, which means I'll take him out of town, too. Grabe! I'm always reminded of Mike tuloy! (What a bad start towards moving on!!) Anyway, the dog is still cute no matter what. And I'm planning to keep it and won't give it back to Mike (HAHAHA.) When I get a good shot of him (the dog, I mean), I'll post them here :D Change topic.. Yaya asked me to help her with a makeover coz she'll be attending a party. She wanted to borrow my clothes so I let her. Plus she let me do her hair and makeup :) Lolz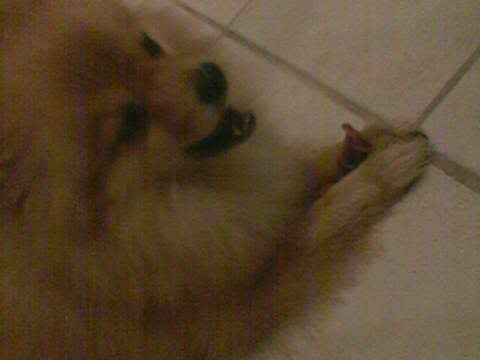 Kenken wrestling a piece of Beggin Strips
Kenken posing for the camera :)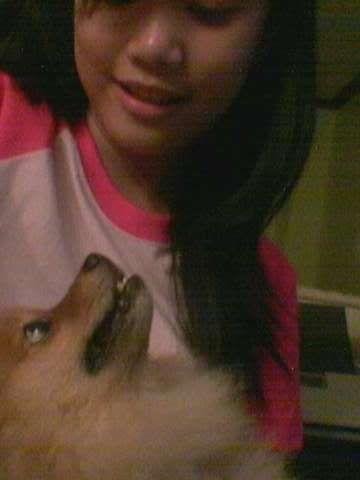 Look at meeehhh!!
-Tinay
5:28 PM links to this post |
Tuesday, March 22, 2005
It was my ex's birthday on prom night and I wished him maturity for his last teenage year. For God's sake he's nineteen and reasons out like a thirteen year old.That's what he needs best. Prom was okay. Mainly because I had fun at picture booths with friends and yeah, I admit slow dance with the past was pretty much memorable enough to call it a night. After the prom, my ex and I headed to the Fort Open Field. With the windows open, stars lighting the murky and cloudy skies, full moon reflecting its light across the gloomy grasslands of the field, everything was perfect. But what makes the setting greater than perfect was the song in his audio system, it was OUR SONG. (and probably the last time it would be played) It was a different kind of feeling. We were diverse now. He is no longer my man. The perfect man in my past lifetime seemed to be a perfect stranger now. His embrace was unfamiliar, his words were weird, every single thing he did was as if not the Michael I knew. I do not know him anymore. But I am not willing to go further just to unleash what's inside of the new him. Let me share some photos but I won't post our pics together anymore. Hover over the photos to see captions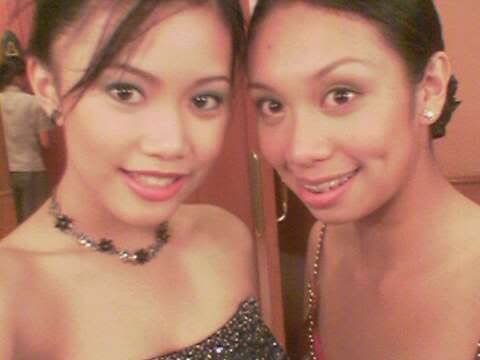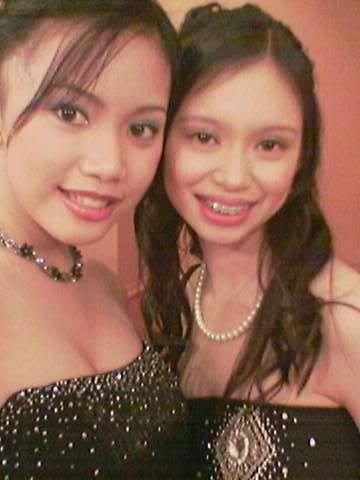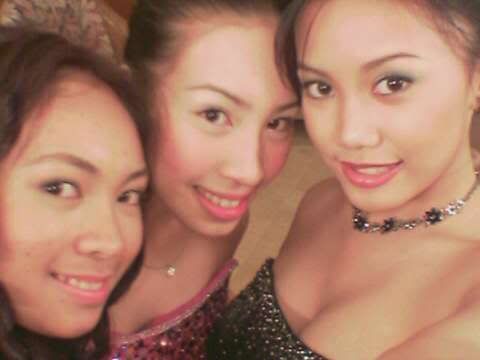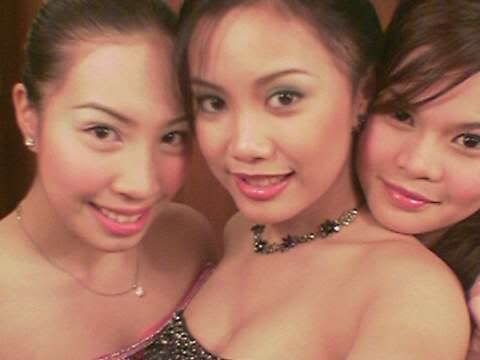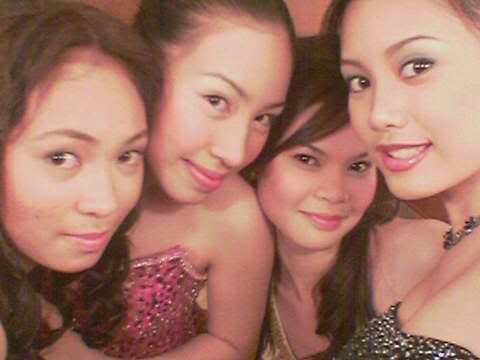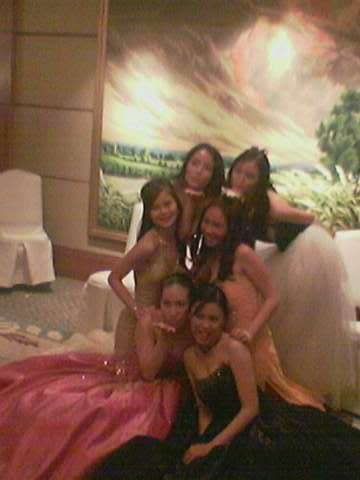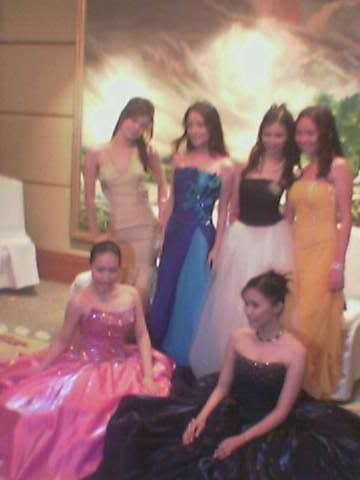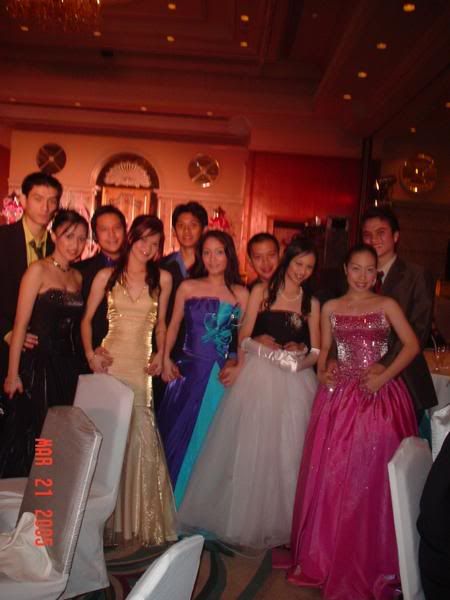 -Tinay
12:53 PM links to this post |
Saturday, March 19, 2005
Thoughts for the bitter. Please read this if it applies.
Sometimes, in our relentless efforts to find a person to love we fail to recognize and appreciate the people who loves us. We miss out on so many beautiful things simply because we allow ourselves to be slaves of our own selfish concerns. Go for the man of deeds and not for the man of words for you will find rewarding happiness not with the man you love but the man who loves you more. The best lovers are those who are capable of loving from a distance, far enough to allow the other person to grow, but never too far to feel the love deep within your being. To let go of someone doesn't mean you have to stop to loving, it only means that you allow that person find his own happiness without expecting him to come back. Letting go is not just setting the other person free, but it is also setting yourself free from all bitterness, hatred, and anger thats kept in your heart.

Do not let the bitterness rare away your strength and weaken your faith, and never allow pain to dishearten you, but rather let you grow with wisdom in bearing it. You may find peace in just loving someone from a distance not expecting anything in return. But be careful, for this can sustain life but can never give enough room for us to grow. We can all survive with just beautiful memories of the past but real peace and happiness come only with open acceptance of what reality is today. There comes a time in our lives when we chance upon someone so nice and beautiful and we just find ourselves getting so intensely attracted to that person. This feeling soon become a part of our everyday lives and eventually consumes our thoughts and actions.

The sad part of it is when we begin to realize that this person feels nothing more for us than just friendship. We start our desperate attempt to get noticed and be closer but in the end our efforts are still unrewarded and we end up being sorry for ourselves. You don't have to forget someone you love. What you need to learn is how to accept the verdict of reality without being bitter or sorry for yourself.

Believe me, you would be better off giving that dedication and love to someone more deserving. Don't let your heart ruin your life, be sensible and let your mind speak for itself. Listen not only to your feelings but to reason as well.

Always remember that if you lose someone today, it means that someone better is coming
tomorrow: If you lose love that doesn't mean that you failed in love.
Cry, if you have to, but make sure that the
tears wash away the hurt and the bitterness that the past
has left with you.
Let go of yesterday and love will find its way
back to you. And when it does, pray that it may be the love that will stay and last a lifetime.
-Tinay
1:56 PM links to this post |
After three years of having braces, they were finally taken out yesterday. What a good timing! Before the prom so I'll be smiling with full force then :D HAHA! Anyway, last night was a blast! Mainly because it was the last day of classes and it was a girls' night out. It was raining so we weren't expecting much people and we just ended up in Eastwood OJs then hometown, Ipanema. It turned out to be crowded when clock hit midnight :D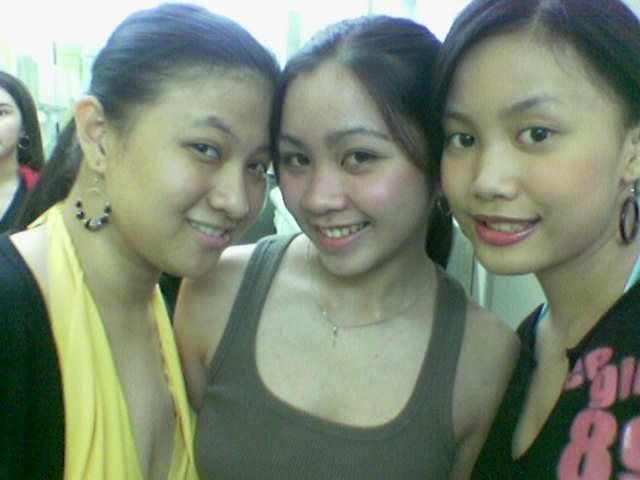 Trina, Gel, Me
SUMMER PLANS
1. Boracay April 8-11
2. Driving lessons :D
3. College review in Expert Guides
4. Fencing lessons
5. Palawan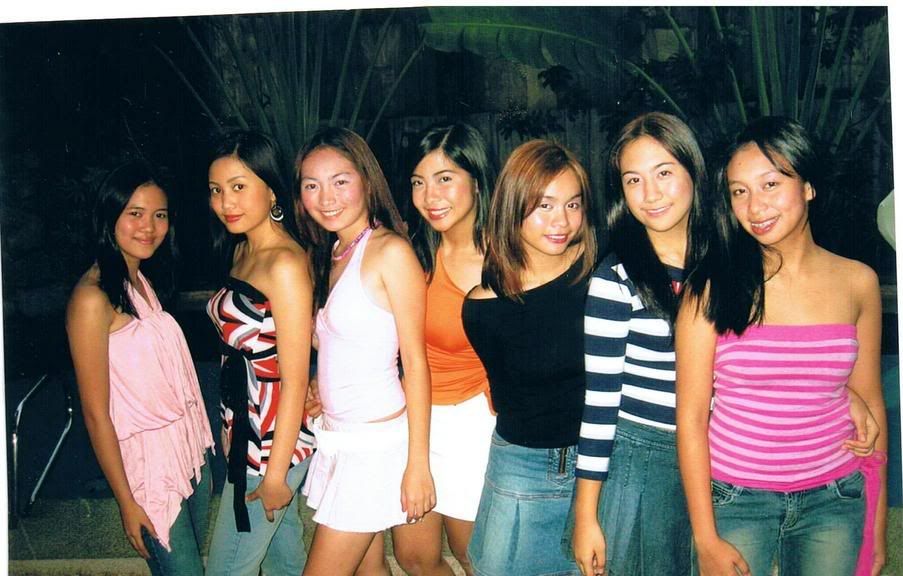 Fashion show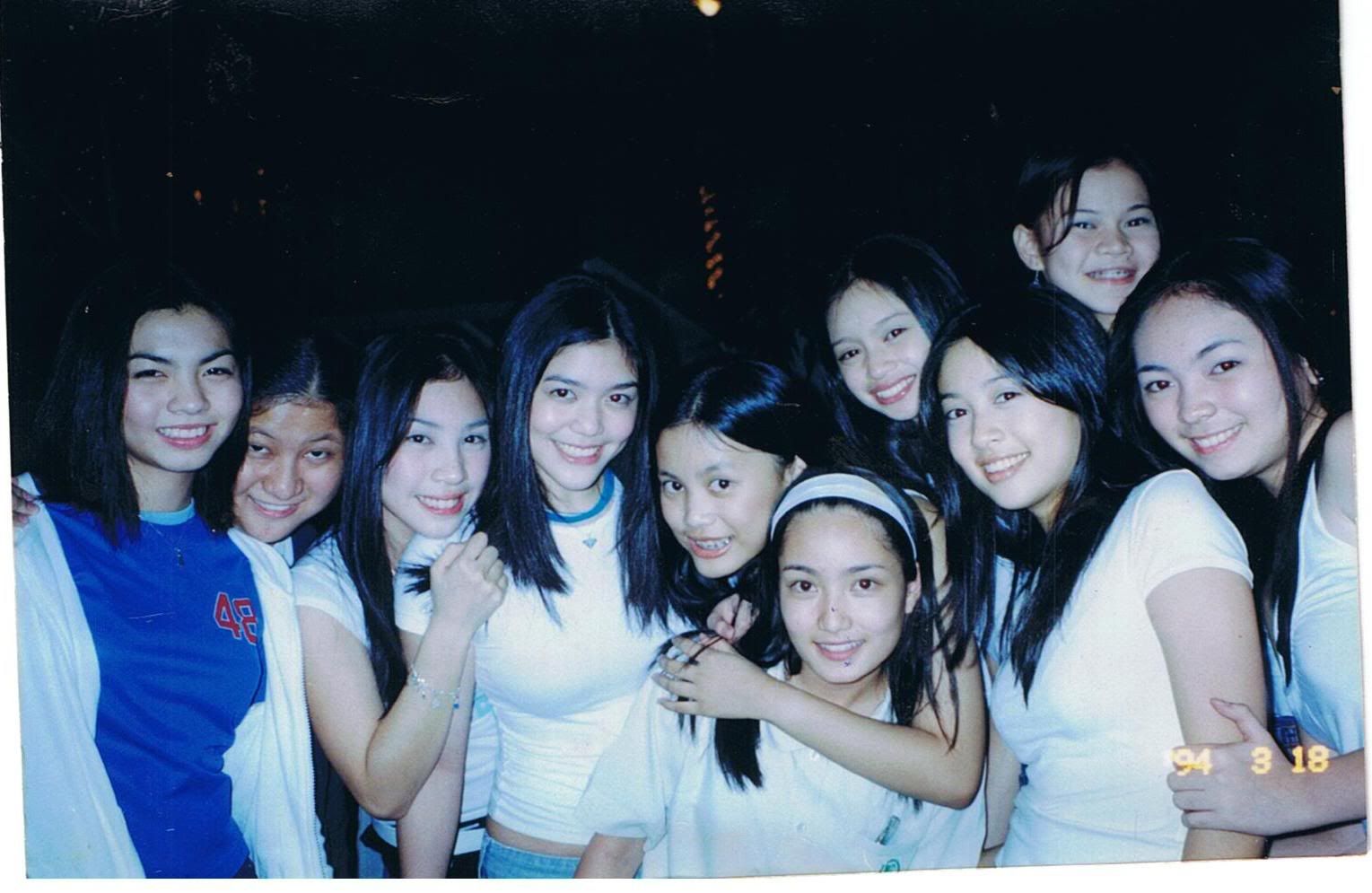 Chuck's house
Imma miss my c9ers and seventeen! :) I love you girls! See you in Bora!
-Tinay
1:30 PM links to this post |
Thursday, March 17, 2005
A Narrative about Moving On

He went here awhile ago and we finally settled our uncanny situation.
Baby, I'll miss the way you wrap your fingers around my hair, the way you go hysterical whenever I'm out on gimmicks without reporting. I'll truly treasure the day when we experienced an Intensity 6 earthquake together, when we were just wrapped in each other's arms. I'll miss our Tagaytay days, when I was scared to look down from our funicular car booth. Remember when we were in E.K.? It took you a full day to convince me to ride the Log Jam and the Wheel of Fate. Count the prizes we bagged from the Chinese Mooncake Festival. Don't forget the weekends when we bum in Starbucks Rockwell and Greenbelt 3 and just laugh our hearts out. Even our families know each other much!! The simplest conversations to the point wherein we run out of things to say and just listen to each other's breath would be worth reminiscing. Even the manner we met is indeed cute and memorable.
You taught me to be real when you said we lived in a world of lies. You taught me to be laid-back when things would go rough. You taught me how to manage people who hide their faces behind solid masks. Ironically, you taught me to be stronger.. when you brought me so much tears.
It is never easy to give up the person you once loved. As they say, moving on is not about stopping to love that person, it's just learning to live without him. And that is exactly what I'm trying to do right now. I am forcing myself to move without his presence, to decide without his guidance and to embrace life without his existence. He will never know how hard it is for me to go on with the remaining years of my life in total absence of his whiff. I'll get up every morning not knowing what's in store for me, a new phase, opening my eyes to a new reality... having him as a best friend. Maybe one day I'll wake up losing a best friend, too.
For the very last time, let me say I LOVE YOU.
-Tinay
8:47 PM links to this post |
Monday, March 14, 2005
It's Official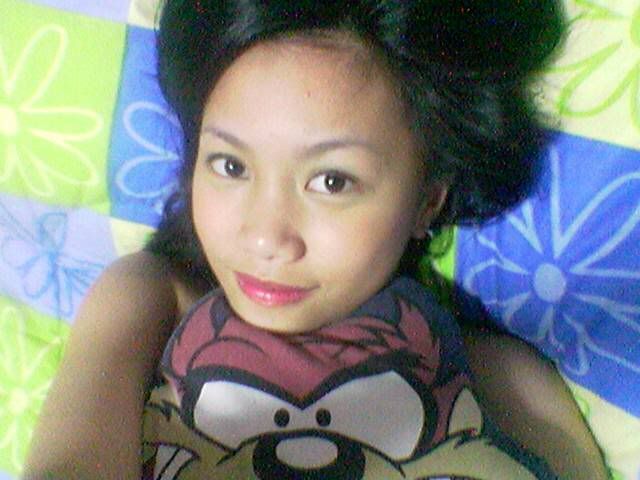 HUG ME!!!:D
Centuries ago, when my bro's ex-girl broke up with him, he swore to God he would not give damn to another woman and put himself into another life and death situation. Eating his words back (whole), my second brother got married yesterday. I'm kind of jealous here. I thought I'd be your only girl after the breakup? :( Nah!! I'm still happy for you. And I'd be having another nephew/niece (This time, a kid speaking in pure English) :D Too bad I didn't see him exchange vows with his chinita girlfriend. We are way miles apart!!! It's a good side for him, though. Coz if I was there, I'd just tease him about how terrible his tie looks on him. Kuya!! I miss you! Please do come back or adopt me there :D
My seatmate sent me card texts for the bitter. It's damn hilarious. Just wanna share.

1.FRONT: As the days go by, I think of how lucky I am
INSIDE: That you're not here to ruin it for me.

2.FRONT: I've always wanted to have someone to
hold, someone to love.
INSIDE: After having met you, I've changed my
mind.

3.FRONT: I must admit, you brought Religion in my
life.
INSIDE: I never believed in Hell 'till I met you.

4.FRONT: Looking back over the years that we've
been together, I can't help but wonder:
INSIDE: What the hell was I thinking?

5.FRONT: I always wanted to be rich, powerful, and
well respected.
INSIDE: And while I'm dreaming, I wish you
weren't so damn ugly.

(This applies) 6.FRONT: When we were together, you always said
you'd die for me.
INSIDE: Now that we've broken up, I think it's time
you kept your promise.

7.FRONT: I'm so miserable without you,
INSIDE: It's almost like you're here.

8.FRONT: If you ever need a friend...
INSIDE: Buy a dog.
I love this quote:
I envy the one you love, the one whom you belong to. But i thought too much to realize how envious the one you love could get if that person had known that im the one who can love you best.
I don't know if this is accurate

Outgoing (E) 67.74% Withdrawn (I) 32.26%
Realistic (S) 52.78% Imaginative (N) 47.22%
Emotional (F) 60% Intellectual (T) 40%
Improvised (P) 61.54% Organized (J) 38.46%

You are an Entertainer, possible professions include - veterinarian, flight attendant, floral designer, real estate agent, child care provider, social worker, fundraiser, athletic coach, musician, secretary, receptionist, special events producer, teacher
-Tinay
8:31 PM links to this post |
Sunday, March 13, 2005
Untitled
Weekend is boring. I could not go out coz exams are coming up next week. Midnight till early morning (12-3am), my bestfriend paid me a visit after learning that I've been down for a few weeks now. It's so sweet of him for dropping by despite his prom the day after. We just sat on our poolside and "sticked" our problems away. Yea, taking out a few sticks didn't feel right after quitting the habit years ago.
I just realized that I can't go stag because I already paid for a couple on prom night. I'm excited coz I'll be going with my ex.(Right.) He already bought a full set of prom attire courtesy of Rustan's and had an accomodation in Makati Shangrila months ago.(Excited, aren't you?) My prom night coincides with his birthday, too so I'm hoping it would be extra special :D Let me share: Last night, I was in Hyatt Hotel. I'll upload the pics I took the next time I log in.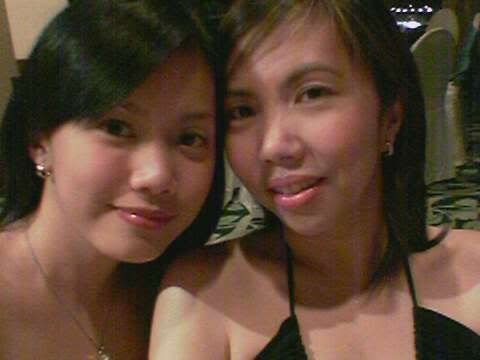 Mom and I in Hyatt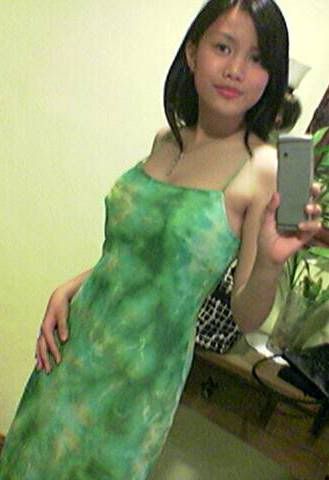 Shot from my cel reflected by a mirror :D (Just wanted a full body shot)
-Tinay
6:16 PM links to this post |
Thursday, March 10, 2005
You never know who's waiting for you
you never know when love is coming your way
but if tonight I look again into your eyes
then it's true and it's me now
These lyrics were the ones I clearly heard when I turned on my MD and keeps on rewinding in my head. This might be God's message for me- to patiently wait. :)
I dreamt of a guy last night. Yeah, it's still him- the man with no face. He caressed my skin, fiddled my hair, brushed his fingers across my cheeks. Was about to see his face when a streak of light hit his face but in the middle of my fantasy, the maid woke me up saying "Ten, seryal o sanwech?" He remains anonymous and I know I would find him soon. Hopefully he'll reveal himself in reality.. If there's a way to unleash you....

Today we got to finish the novel El Filibusterismo, which I could classify as truly tragic. I wish I had not read the story especially in my situation now that my life is indeed a living tragedy. It affects my psychological behavior, too, you know!! I tried reading book one from Series of Unfortunate Events but immediately stopped after realizing that I'm becoming more pessimistic than ever!
Reasons why to boycott El Filibusterismo:
1. It exaggerates the wickedness of friars.
2. Isagani is indeed foolish to rescue the lamp instead of rescuing Paulita.
3. Ever wonder why only good friars were destined to die?
4. It has a catastrophic ending anyone would hate.

But it still has important and touching points :)

Trivia: Rizal wrote a sequel to El Fili but only managed to accomplish three chapers.
WHY??? because he had a hard time writing in Filipino!!!!
Ironically, he coined the quote.. "Ang hindi nagmamahal sa sariling wika, masahol pa sa malansang isda" *another reason to boycott the novel :)*
Gotta stop being a critic!! Rizal might haunt me for this!




-Tinay
9:22 PM links to this post |
Wednesday, March 09, 2005
We talked about Fatalism. Root word: fate. Does it really exist?
Serendipity.. does this mean that every person bore already has a match without the choice? What if you don't get to meet him, are you doomed to the unideal guy in front of your doorstep? I think it's kinda silly.
I do not really believe in soulmates, stuff like that. I just think anybody could be your perfect match if you choose to. Do I make sense?

Was in Seattles Best after school. I decided to go there alone so I could take time to think over some things. My girl buds have boyfriends to deal with, anyway.

People of different types were there, most equipped with their laptops typing countless words for a thesis, some patiently reading a paper as if waiting for someone to share their tables with, some chatting with boyfriends or buddies. It's a weird feeling to sit back and just observe the people there :D It could make you envy, laugh or simply admire how they could afford to stress themselves over a pile of work. At times I would badly want to be in someone else's shoes. And if given a chance, I'd probably be a simple girl studying in a COED school rather than being the weird, different Tinay studying in a boxed from civilization all girls society.

After seeing them, you'd know your situation is not the worst in the world. Yea.. I know I'd get over this .. Eventually. It's been a month and a few days now since the breakup. I'm giving myself two more months to completely forget him. I simply wanna bump my head really hard so I'd suffer from amnesia (insomnia according to a teacher *lolz*) and lost the nightmare memories it brings!! :D grr!
a trance lyric: You never hear me crying, you never see me trying. To love you once again, your love is so past tense...

listening to: Rock It: Master P
-Tinay
5:43 PM links to this post |
Tuesday, March 08, 2005
Prom Date-less!

Yea.. It's already two weeks before the prom and I still don't have a prom date. Apparently, HE was supposed to be my date but after what happened today, forget it!! While chatting with him over the phone, he was in his usual badtrip ako tone. He told me he knew something about me but won't tell me what it was. I'm not stupid anymore. I would not force a person to tell something he doesn't want to. It would make me look that I'm so into him and that I'm after what he's going to say, which is probably another bullshit issue some unreliable source told him. Yeah, as if! It has always been that way. My word against theirs. And theirs triumphant over mine.

After the things you've done to me, I'm beginning to learn more about myself. The pity WAS on me when we were still together but not anymore. I came to a point wherein I'm beginning to have respect for myself before anybody else. It's never my loss, sweetie!!! Coz look who's degraded now??? I'd say you should go hunt for a girl that doesn't thinks highly of herself. It just makes me laugh at you now. Anyway, I'll be the one to get out of the scene. We both have our different worlds now. You, in your Chinese world and I, in my multi-cultured planet. That was how it used to be. It's hella better that way and I'm pretty sure that I would not be seeing you again in my whole lifetime unless we meet on purpose :D There is definitely something wrong with you. I WAS willing to help but if you'll continue treating me this way, I would just be wasting my effort. I guess you want it this way.. then fine.. GO ON WITH YOUR WAYS :) I'd rather go stag than go with a guy like you. You're hopelessly juvenile. I hope you'd find happiness in being such a childish heartbreaker.

*You may think I am a troubled person suffering from intense emotional incapabilities.. Yes, I was but starting tomorrow I'd be a whole lot different.
-Tinay
7:53 PM links to this post |
Nasty surveys that curse you when you don't answer them. Alright then!!
1. TWO NAMES YOU GO BY: Simply by my nickname Tinay or T9. I ignore people who call me by the name Katrina. Sorry! I just hate it!
2. TWO THINGS YOU DISLIKE ABOUT YOURSELF: How moody and boring I get :D
3. TWO THINGS YOU DON'T UNDERSTAND: How God manages to "balance" everything when it doesn't really appear that way and how cruel people could get
4. TWO THINGS THAT SCARE YOU: Revelation day and
5. TWO THINGS / Anything U NEED EVERYDAY: cellphone and sound device (md, discman, whatever)
6. SOME OF YOUR FAVORITE BRANDS: People, Topshop and Mango whenever I have the money but Tiangge will do :p
7. TWO OF YOUR FAVORITE SONGS @ THE MOMENT: hmm.. I'm into Trance right now. Takes my depression away :)
8. TWO PERSONS YOU SPEND THE MOST TIME WITH: I can't choose two out of the seven. Sorry!
9. TWO THINGS YOU CAN'T DO: (this question makes me think) I tend to be suicidal but not really serious about it. Hmm.. I couldn't possibly hurt the person I love on purpose. Aww?!
10. TWO OF YOUR FAVORITE HOBBIES: shopping and bumming around
11. TWO THINGS YOU WANT TO REALLY BUY RIGHT NOW: a hot, hot, hot car and a new jetski
12. TWO CAREERS (BUSINESS) YOU'RE CONSIDERING: persuing our family business but I'm leaned to my doctorate degree :)
13. TWO PLACES YOU WOULD GO ON VACATION: Boracay, where all the hotties go!!! Haha! and .. Europe
14. TWO OF YOUR FAVOURITE PERSONS: My parents
15. TWO THINGS YOU DID YESTERDAY: Blogged and phoned.

ano pnaka ayaw mong subject? Music
ano gnagwa mo pag wla tcher nyo? Listen to my MD or chat with friends
ano gnagawa mo pgkatapos ng klase? Go straight home and try to get some sleep
FRIEND(S) U MISS? Old friends I lost contact with :(
WAT IS IN UR MIND RIGHT NOW? to move on or to stay
DO U THINK LIFE IS UNFAIR? At all times
WAT ANNOYS U D MOST? backstabbers
WAT DO U THINK BOUT UR LOVE LYF RIGHT NOW? sucks bigtime!!
Matangkad o maLiit? matangkad
Maingay o tahimik? Maingay
Makulit o mabait? Can I take both?
Singer o dancer? Dancer
IF YOU WERE A CRAYON, WHAT COLOR WOULD YOU BE? I'd rather be a colored pencil. :)
LAST PERSON YOU TALKED TO ON THE PHONE? My mom. She called about not reaching the telephone line coz I'm online 24/7.
FAVORITE DAY OF THE WEEK? Friday- I get to go out on gimmicks but also sees friends in school TGIF!
FAVORITE PLACE? where the people I love are
WHEN IS YOUR BIRTHDAY? August 22, 1988
Current hairstyle? dull, layered, jet black hair
Where do you want to live when you get married? back to Australia
Are you paranoid? Very much.
What do you do when you're mad? I get easily pissed by anyone that comes against my way. I'm sorry for that
are you normally a happy person? 50/50
do you wish you were happier? definitely!
what about being with your friends, does that make u happy? at times..
are you one of those idiots that think they are ugly, dumb, and fat? I feel that way right now. Coz of what happened recently ;(



I do not know how to answer some of these questions coz like what I said, I'm still up to search for the missing pieces of me.
I'm already experiencing two weeks of hell! The horror of the defense PLUS the countless piles of schoolwork PLUS last-minute pahabol to the teachers PLUS the headache about the PROM PLUS the miscellaneous *wink* is driving me crazy!!!! Third year is in fact a cinch.. Yeah, without all those hassles!! Can't wait for summer...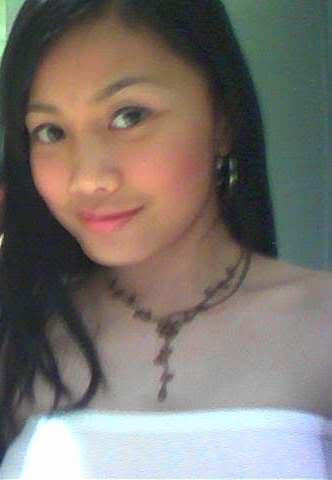 summer babe
-Tinay
6:46 PM links to this post |
Sunday, March 06, 2005
My idol apperently appears lesbian..
Saw a couple of Paris' pictures on the net where she's caught making out with another girl.. I won't post those pics anymore.. Too revealing.. Haha! The heck! I still bow down to her..

My bee-yoo-tiful princess :)
***There's this girl and she's really getting into my nerves. Apparently, she's using other people's quotations/lines and claiming them to be her own. She also uses pics of other girls including myself. Now she posts nasty things in her blog. I just hate posers.. C'mon, the people will know soon, too. Just be true to yourself and you'd be prettier that way! Respect please.

Sorry, had to let it out.

-Tinay
3:29 PM links to this post |
You know you love me
You're just denying it
You're just afraid that the people would
See you weak
You think otherwise

You know you love me
Because you still send me offended messages
When you know that I'm out on weekends
You think otherwise

You know you love me
Because you want to be my prom date
You said you'll be the only guy I'd dance with
You think otherwise

You know you love
You don't have to deny it
Our love is the only truth
In this world of lies


*Baby I don't know know how to teach my heart
To finally move away from your warmth
Even with my eyes closed
I could see a silhouette of your face
The one I USED to cherish
I do not know how to make you stay because I would not want to push myself to you though it was me who called it quits. I could not possibly believe every word he uttered to me. It appears that I was not "girlfriend material" enough for him. Apparently, he didn't see all the things I've done for him. If only you knew how much trouble it caused me when I went against all odds just to fight for our love. If only you would exert the effort to learn about the Internet and my blog, then you would know how much you still mean to me..
How could you possibly say go on with my life when you know that you are the reason of my existence? :(
-Tinay
1:31 PM links to this post |
Wednesday, March 02, 2005
this is a pic of me and my bestfriend.. try to form the puzzle to know who he/she is. :)
-Tinay
9:37 PM links to this post |
Yes I know I have done wrong. I was stubborn and was completely out of myself when I did IT. If only you knew that my intentions were clean and not for any other purpose. Anyway, Im already a step away from him. You think youve won this fight but in fact it just started. But Im in the conclusion that it's no use to argue with you. Coz what you say do not make any sense at all. Youve done wrong and same here but we all make mistakes. Now Im trying to straighten out those wrongdoings. You wont forgive? FINE.
Now I put myself in trouble because she's HAUNTING ME and she wouldnt let me get outta here. We talked and finally settled it. then I learned its still not okay. I apologized but its never enough for her. Ive done my part in apologizing. ARE YOU THAT HARD THAT U CANT SEEM TO FORGIVE?? well then. . if thats the way you want it. . ill give it to you.
-Tinay
8:39 PM links to this post |
Tuesday, March 01, 2005
While having recess, Jennifer Dar told me that the end of the world is coming soon. You made my day, sweetie! :D

This matter is somehow related to a woman named Lucia who claims that the Blessed Virgin Mary appeared to her when she was little. What the BVM told her was kept for decades until now that we only have a year left to prepare. Turns out that God gave us years 1950-2005 as times to repent. Those who would not repent would be erased from the population on Revelation day. The pope disapproved the declaration of the message as it would disrupt the Catholic belief that all would be saved. Until now. . .

Signs that would signal the end are evident and it's giving me the creeps.

1. Natural Disasters (and you know what recently happened to Taiwan! + series of earthquakes in Asia)
2. Possible death of the Pope (He is ill right now!!)
3. Spread of diseases (China is suffering from a sudden sprout of AIDS victims)
4. Terrorism (Need I say more?)
3. Death of Lucia (She just recently died)
4. Assassination of a president (Waiting..)
5. Start of World War III (Pending.. ?)

What's crazy about the prophecy is that God has only room for one thirds of the human species.
The least we could do now is not to let the Pope die. And take good care of all the presidents in the world. HAHA! NAH! Gotta pray, repent and plead for God's mercy. It's the only ticket to Noah s arc.

Do you think you would be saved?
read more at:
Fatima from the official vatican site. Includes reproductions of Sister Lucia's writing and the text of the secrets>>>
http://www.vatican.va/roman_curia/congregations/cfaith/documents/rc_con_cfaith_doc_20000626_message-fatima_en.html
-Tinay
8:58 PM links to this post |