Sunday, June 26, 2005
Call me Foolish but this is how my story goes..
Often times, you don't really achieve your goal of forgetting someone when you start dating other people. Most of the time when you look for happiness, you end up getting desperate rather than just being lonely. Now I know the saying's true, "happiness comes from wanting what you have not having what you want." When you constantly go out and force yourself in the dating crowd, you'd feel emptier inside. You'd know that looking for another one isn't an answer because no one could ever replace the one you left. You'd soon realize that what you're looking for simply cannot be found in the sea of strangers that you think would suffice the process towards "moving on." RARELY does it happen that what you're searching for is the person right beside you or is the person you left. I'm glad that unusual magic occurred to me.
There's still this issue between the battle of your mind and heart that I never learned to master. To the professor of devotion, please advise me when to use either. I've been a slave to confusion and I want to be unleashed..
It's funny how fate manages to tie two people who grew to be so different. After months of being apart, I didn't really expect that destiny would still bring us together. Not as lovers, though but as the best of friends; this time, a genuine kind of friendship. There aren't any more barriers, no more people who are trying to drag us down to hell with them, and most of all; we've closed our worlds exclusively to ourselves. I just discovered that people around you are the ones who usually cause arguments between couples. The sad truth is, no matter how great the role of others is for lovers, they must try not to center the relationships on them. You should keep in mind the reality- the world is becoming crueler everyday. You won't have enough of people who are relentlessly pulling others down. Stories and lyrics of lovers' tragedies seem like Last Song Syndromes to me. I had enough. I'm trying to shut myself from idealism and live my own fantasies no matter how far they seem to be. If they don't come to be, then so be it. It just seems like it's my only key to happiness. I just have to wait; someone would build crazy fancies with me.
by
-Tinay
6:43 PM links to this post |
Tuesday, June 21, 2005
My Own

Realizing that Ever Afters aren't for everyone, no one should search for the knight in not-so-shining armor. The most beautiful romance happens not between lovers, the perfect moments happen amidst the silence. The beauty of the song played by the orchestra is not heard at the finale, the music of lovers only exists in their fantasies, it is their heartbeats they're hearing play. Your prince charming is not the man from your dreams but is the reality man who tries to kiss not your lips but your imperfections. There is no such thing as fairy tales come to life but only how you make yours a living tale. And the perfect Ever After begins here..
-Tinay
9:53 PM links to this post |
Friday, June 17, 2005
The first three days of my last year in High School had been stressing already. Been down with the flu for 5 days already but I had to force myself to get my ass in school. UPCAT forms were due so I had to rush to Kodak and fake a healthy smile. Picking a campus and a course is already way too head-straining. Uh, I chose BS Mathematics and BS Molecular Biology and Biotechnology- the two subjects I think I'm good at (or at least I'm pretty confident about). We're required to take electives so I had to battle with 70+ students for 40 slots in Physiology. I've absented myself from fencing lessons because of these reasons.

I'm not yet ready for school!!! I'm suffering from a major summer hangover- the beach, skins and the sun: my favorite trio. Hehe

To my REAL, CONFIRMED friends: please add my private friendster account. I'll soon get rid of the other 13. Thank you!
tinay@private.com
-Tinay
4:59 PM links to this post |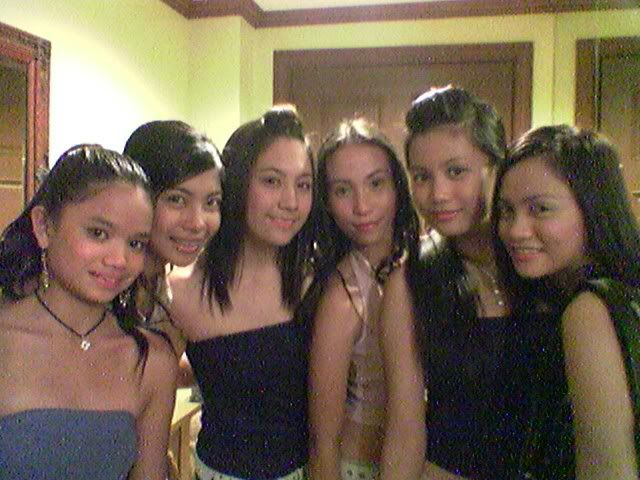 Diane, Pao, Kim, Raffy, Tinay, Pau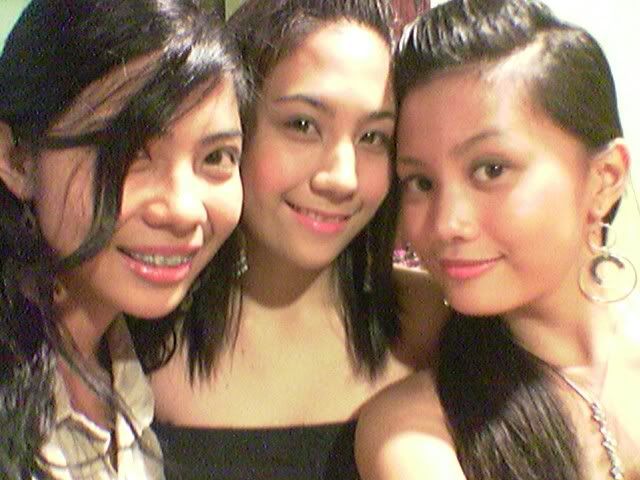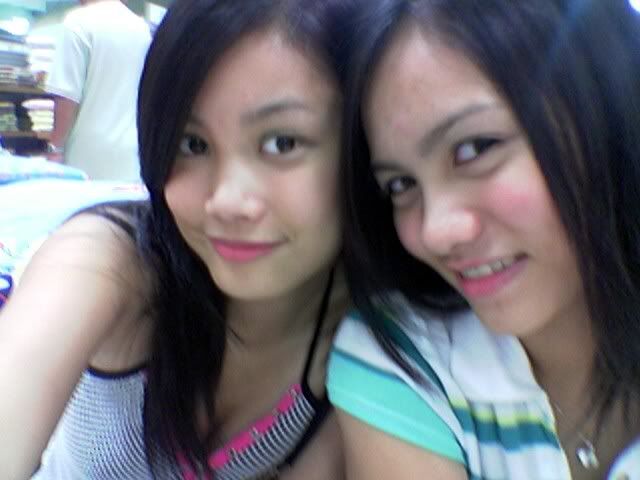 -Tinay
4:26 PM links to this post |
Friday, June 10, 2005
Caught Up
So fed up with the news and all.. Recent scandals bring a big shame on our country's reputation (at least what's left of it). It's ironic how the few chosen we put in position are the ones who have the nerve to disappoint the people. Who cares if it's really Gloria talking to some dude, planning a billion dollar trick on the Filos? That's the natural state of politic-ing here. Might as well get the hang of it. The best we can do is simply stop stressing ourselves over some desperate issue. Just work hard, earn your own bread and prove to the crooked leaders that you don't need a damn from them to stay breathing. I swear to God, hopeless na ang Pilipinas.
Whew.. So many freaks!!
Moving on.. Here's my response to some guy who messaged me in friendster. The heck!:
I'm sorry but I can't remember the last time I went out with a guy who has his head over the clouds. Sorry I wasnt thinking what you quoted. If this interests you, I was saying to myself, YEAH THIS GUY'S FEET ARE WAY ABOVE THE GROUND AND HIS BIG FAT ASS HAS ALREADY TAKEN OVER TSK TSK.. HAHAH chong wag mashado mayabang!! hahahaha
Seth wrote:
> haha hey sup sugar plum !? hey i have a big fat
> hard ass that I got from training my butt off in the
> gym! haha and i got a freakin solid ass rock abs
> too...(its a six pack)...yah...i know what ur
> thinking.."he is one hot guy" haha well thats
> true..ehem* so anyway wanna kick it with me
> sometime? lets say in eastwood? haha it would be
> fun..we could watch a movie..together...rarr (think
> about it...baby..mwah mwah rarr)
-Tinay
6:48 PM links to this post |
Monday, June 06, 2005
subic getaway!!! here are some of the pics i wasn't able to post. ;p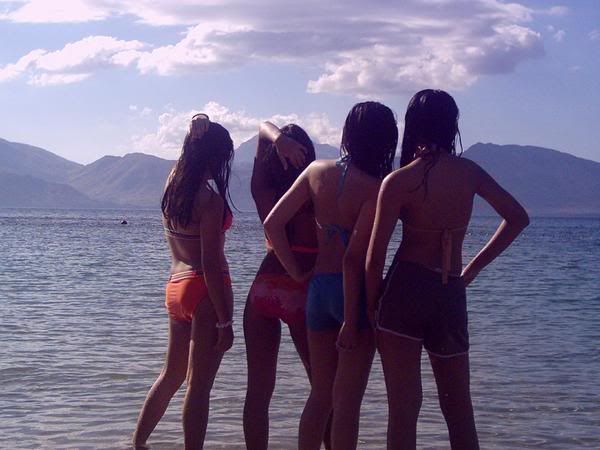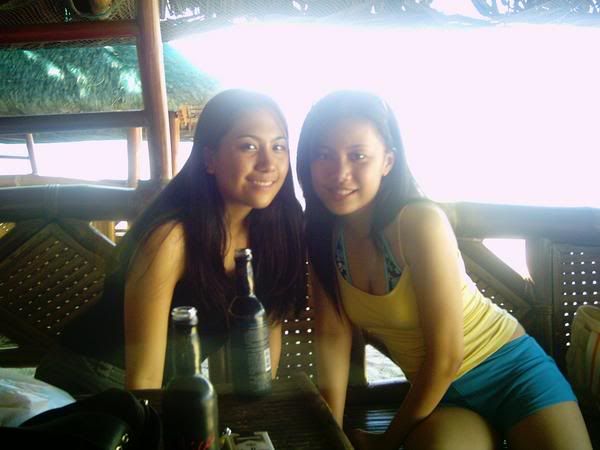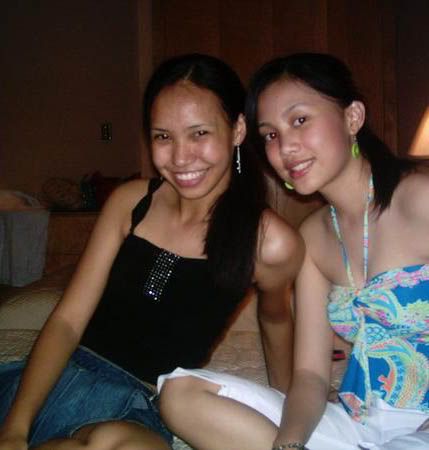 -Tinay
4:31 PM links to this post |
Friday, June 03, 2005
To the impostr out there.. Please find something else to do so you'd stop bugging me. And mind you, I'm not affected. I can trace your IP, sana mag-isip ka before doing something! It's really funny how you think you can pretend to be Mike. I don't really mind if you have something negative to say, as long as you put your real name. I'd be grateful pa. In case you still wanna pretend, make it realistic next time, ayt? ROTFL.
Been swimming too much lately. Pool in Corinthians is sooo addicting, I just figured I need to make the most out of (umm..) 12 days before school starts. Grar!!! I don't even have books yet. Crazy Crissy dragged me to Metrowalk last night. It was fun just having your ass sitting around restaus as if waiting for some miracle to happen. So there, we just tripped on food, waited for her friends to arrive then resumed the pork sisig trip. As for the miracle, ah eh, walang dumating.
Fencing training resumes today. They put me in the UST team and I'm not even attending that school. It's alright, though. I'm not completely depending despite the advantage coz it's really the entrance test that counts but sure fire, I already have a school in college (Yay!) Busy busy again... I miss my friends!! All of them!! The C9ers and Seventeen and ofcourse my classmates.. Living my complexities in life simply isn't the same without them :( That's one of the few reasons why I like going to school. So there..
-Tinay
8:43 PM links to this post |