Friday, August 26, 2005
28. What is the sweetest thing a guy has ever did to you?

The question came just in time right after it happened to me. Rob gave his usual after school call and what faced him was a torn heart. I decided to call it a day, after all the sobbing and screaming (that's how I release it). And right before I dozed off, he rang me and was saying I should go down our lobby. Wow! He stepped out of his laid car and gave me the sweetest bouquet of pink roses. I asked him why he had to when in fact, he wasn't the reason I was crying. He simply said he did not want me to cry whoever the reason may be. It was so cute seeing him in his HIRM attire and then immediately speeding off right after delivering a bunch of flowers. He seemed like a thirteen-year old boy courting a crush the first time.
BV? BV?
I had a quite simple celebration for my 17th year of existence. I had my friends coming
over for a Japanese-Korean supper, extremely beautified then headed to hometown Temple, Greenbelt. We were all having a great time until my friend, Kim lost her clutch. You guessed right, it was stolen and we didn't find it. End of the story.
Busy August!
Probably because we were starting a new term and because I've been killing time in Ardz too much lately. Almost everyday we set our asses there just battling with the ultimate champ, Rico. Haha.
My script won third yesterday in the Human Diorama this Filipino month. Congrats to my co-scriptwriters and the cast of Noli Me Tangere. Extended salutations to Pao and Kim for looking very much like guys yesterday. It was freaky, swear. Iv-2, please stay hot :)
Life's pretty much going smooth this August and I have a feeling that it has a price to pay. I'm bracing myself for a rough September 2005.
I miss blogging, by the way.
Deafening her ears: Be My World (I heard this from Rob's sounds)
-Tinay
8:22 PM links to this post |
Tuesday, August 16, 2005
I was halfway through reading the Breakup Diaries when all of a sudden, there's this who-does-she-think-she-is kid who demanded for my ID and my book. I was trying to contest to her silently coz her stupidity was dragging much attention. She annoyingly said she was warning me for the last time, yeah, as if she warned me before that. I don't feel the need to sign another brown slip so for God's sake, I'm letting the book go. And as for that kid whom I clearly remember to be wearing a BLUE P.E. and funny shaped glasses, *ahem*... I'm giving you your first and final warning. Frosh freaks!
Physics Blues!
No surprise nearly everyone failed Physics. That's what everyone gets for studying nothing but funny accents :( I faired pretty fine in the other subjects.
In His face
I perfectly knew how he would treat me now so I tried to show my best pretensious face. Yeah, I have a perfect picture in mind what moves he's planning to do next. I'm wise now, silly. You can't play with my heart anymore. Maybe its your turn to be spun.
Can't wait 'till you discover how great my life's been since you've been well, out of it. You'd know soon. There's such thing as karma.
Been trying to preoccupy myself with my bestbuds, C9 in Ardz and the Barn Bistro. My arm is killing me but swear, I'm starting to master billiards. Thanks to Pau, Brian and
Rob :)
Been missing more than two weeks of fencing. I miss everyone there especially my personal trainor Al. ;)
BTW, I learned about the levels of possession a guy has in store for any girl. When she sticks out her finger, he asks for her hand. When she lends him her hand, he grabs her whole arm.
Currently plastered to her MD:
Pink is a Colour
Currently glued to her fingertips:
Breakup Diaries
-Tinay
7:46 PM links to this post |
Tuesday, August 09, 2005
For the Love of Being a Scholar

Pao took it the day before I did and she said it was a piece of cake; so I didn't bother to make last-minute cramming anymore. Traffic was heavy as expected so I was forced to walk under the rain not equipped with my trusty umbrella. I strode towards Palma Hall keeping a slow pace, trying to listen to comments being made by the people who have gone that morning. I was struck by many different faces- is this going to be my school? And by the time I got there, there were at least a thousand students who were pushing their lucks as me. Math wasn't easy and before I realized there was only a minute ticking 'til the next, I had left more than 15 questions left unanswered. I was so distracted by a seatmate who constantly murmured numbers and by this guy across me who kept on looking back as if he was waiting for an answer from behind. Time ran out so I randomly shaded a few oblongs- wrong move, Tinay. I was reminded that I picked BS Math as my first choice course so I was desperately trying to flip through the Math section again, hoping to figure those problems out. I didn't care about my Reading Comprehension. For God's sake, the excerpts were as boring as Economics class! No good. Ergh, as the old dude from Charlie and the Chocolate Factory said, "Everybody has a chance." It's not a mere entry to a factory though; it's an entry to your future. *fingers tightly crossed*


A Past Entry I Forgot to Publish
*PICTURE PALACE PART II: Reborn*
Hover over please.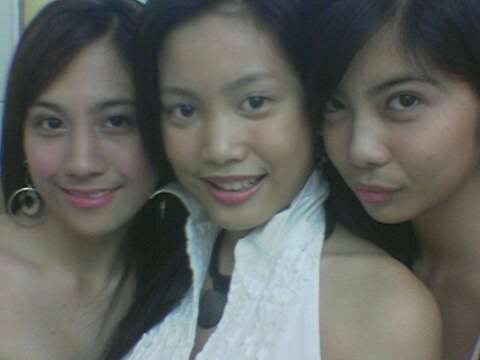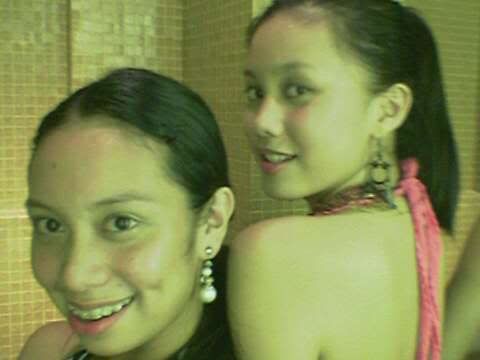 -Tinay
6:50 PM links to this post |