Monday, March 14, 2005
It's Official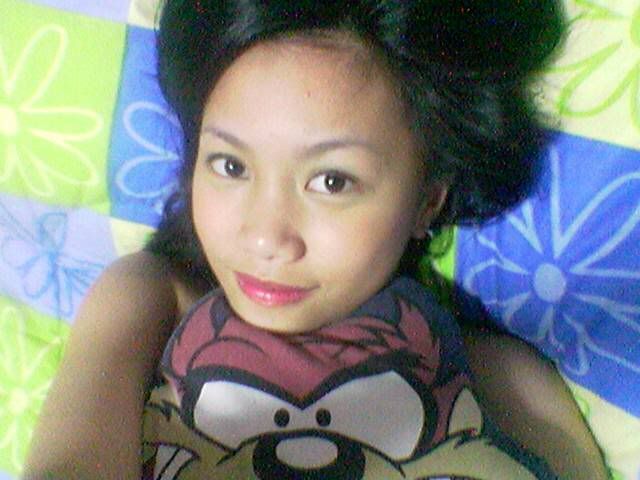 HUG ME!!!:D
Centuries ago, when my bro's ex-girl broke up with him, he swore to God he would not give damn to another woman and put himself into another life and death situation. Eating his words back (whole), my second brother got married yesterday. I'm kind of jealous here. I thought I'd be your only girl after the breakup? :( Nah!! I'm still happy for you. And I'd be having another nephew/niece (This time, a kid speaking in pure English) :D Too bad I didn't see him exchange vows with his chinita girlfriend. We are way miles apart!!! It's a good side for him, though. Coz if I was there, I'd just tease him about how terrible his tie looks on him. Kuya!! I miss you! Please do come back or adopt me there :D
My seatmate sent me card texts for the bitter. It's damn hilarious. Just wanna share.

1.FRONT: As the days go by, I think of how lucky I am
INSIDE: That you're not here to ruin it for me.

2.FRONT: I've always wanted to have someone to
hold, someone to love.
INSIDE: After having met you, I've changed my
mind.

3.FRONT: I must admit, you brought Religion in my
life.
INSIDE: I never believed in Hell 'till I met you.

4.FRONT: Looking back over the years that we've
been together, I can't help but wonder:
INSIDE: What the hell was I thinking?

5.FRONT: I always wanted to be rich, powerful, and
well respected.
INSIDE: And while I'm dreaming, I wish you
weren't so damn ugly.

(This applies) 6.FRONT: When we were together, you always said
you'd die for me.
INSIDE: Now that we've broken up, I think it's time
you kept your promise.

7.FRONT: I'm so miserable without you,
INSIDE: It's almost like you're here.

8.FRONT: If you ever need a friend...
INSIDE: Buy a dog.
I love this quote:
I envy the one you love, the one whom you belong to. But i thought too much to realize how envious the one you love could get if that person had known that im the one who can love you best.
I don't know if this is accurate

Outgoing (E) 67.74% Withdrawn (I) 32.26%
Realistic (S) 52.78% Imaginative (N) 47.22%
Emotional (F) 60% Intellectual (T) 40%
Improvised (P) 61.54% Organized (J) 38.46%

You are an Entertainer, possible professions include - veterinarian, flight attendant, floral designer, real estate agent, child care provider, social worker, fundraiser, athletic coach, musician, secretary, receptionist, special events producer, teacher
-Tinay
8:31 PM |