Sunday, October 23, 2005
Smilin' Despite Annoyance
I spent the whole Friday with Pau, Heins and Rob. Things that we were planning to do and what we actually ended up doing were poles apart. Rob went to my house in the morning and caught me dozing in my nightdress. It was the peck on my cheek that woke me up :) Charming but humiliating, I must say. We had lunch at the Fort and he left his car there, too coz we decided to merge in one car. By the time we got to E.K., there were a hundred buses parked for a field trip. Could you just imagine all the people crowding the queues combined with the heat of an October afternoon? Grar. What an utmost encounter with convenience and enjoyment... Not.
Juvenile adventure turned into an untamed roadtrip! Blah.. Blah.. Blah..
.. And we ended the day unwinding over a busy Caltex station in Quezon City. We met with our other friends there. We didn't care if we had to sit on dirty tiles. We just had to live the life we wanted- carefree and blithe. Pau and I played tong-its while watching cars speeding off, accelerating gas pedals and engines like they're running away from a tsunami. I never thought watching illegal drag could be so entertaining! So now I know why my guy's so hooked to this thing. Can't wait to drag on my own *shades*.
Rob turned sick. Probably because with how the day went. Sometimes, you just have to learn to stick to the plan no matter how shitty things appear to be. People may get in the way. It's a matter of how you handle it. I don't really like this certain person who's such a big
nuisance
in our relationship.
Read this, I don't care. Go grab a dictionary and see what it means!
He tried to justify himself but there was no way he could straighten up the knots and curves he had done. He had the lamest excuses and reasons. Good thing Rob and I were able to work out what
he
started. Grr. I can't believe that those people who experience extreme misery have to put their
friends in that situation
, as well. It's not like it alleviates them, right? Or it does? Well, they say misery loves company. Stupid of the company to join in the misery. Let me tell you one thing. Putting others down doesn't give you the opportunity to be better. You just made a bigger fool out of yourself. Shame on your boasts.
We held a party at the poolside yesterday. I nearly emceed the event but good thing mom realized the consequence once I start to get the ball rolling. I turned up my music and the oldies had queries written all over their faces. Rob came over, too. The teens played Uno Stacko, Videoke and the all-time favorite Tong-its.
-Tinay
8:05 PM links to this post |
Thursday, October 20, 2005
Since Rob can't make it to Ilocos with us, I withdrew myself from the best sembreak trip ever. Whoa. We're planning to go to E.K. tomorrow. It's better to celebrate Christmas early than be queen of the waiting rails.
This is my new desktop wallpaper :D Something I did out of boredom.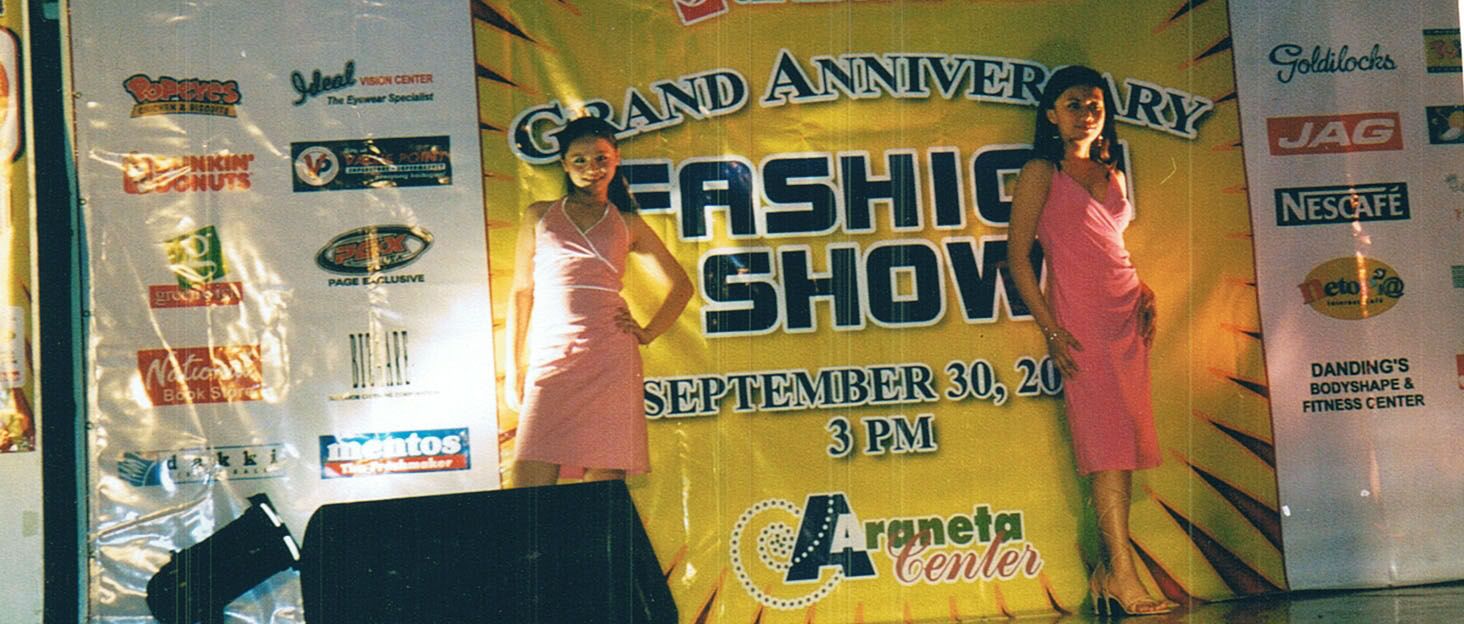 : Opening/promotions for Gateway. Don't ask anymore why I stopped. I hate the fact that I had to dress up for less than 20 seconds with all the guys nearly seeing what's underneath. I cannot tolerate that. It's not my thing. But I do miss it.
Sweet High School
I can't imagine myself leaving high school. I feel like I'm still caught up in Biology class way back in year II, dissecting a live frog with my bare hands. Haha. I sweetly remember that ;) I forgot to bring my hand gloves so I asked my teacher for an extra pair. She told me to face the consequence of irresponsibility. She thought I
wouldn't
manage, but I did. Bleh, Ms. Alba ;)
I don't know if I can immediately adjust to college life. We'd all be leaving our safe zones now. Oh, sweet Katipunan, how I wish I could dwell in you again (if you get what I mean). Hehe. It's just waaay too inconvenient to study in Taft when you lived all your life in secure, homely Katipunan Avenue. I'll be missing a lot of people and places, too.
1. McDonald's (any Knoller/Atenean will agree)
2. Starbucks (favorite raid cafe of teachers)
3. SBC (place they forget to raid.. haha)
4. Mag net and Barn Bistro (post-exams fave hangout, stress reliever, too.)
5. Taj Ma (private eyeball-with-boylet spot with Persian setting effect kuno)
6. Prince David deck (for those intimate moments.. bwahaha.)
to be continued... my niece is here.. she's just too cute to resist.
-Tinay
8:13 PM links to this post |
Tuesday, October 18, 2005
Nothing really spares him from being just normal. He was the typical kind of guy- fond of cars, avoids school, digs chicks and hangs around in bars in metropolitans. What makes him special is the fact that he is more than that- he's my best friend, my gimmick buddy, my honey. Is it really okay to fall in love again after getting hurt several times?
I read from somewhere that love has this certain formula that once it is triggered, your brain is doomed to stupidity. And that's what makes love addicting. Haha. Almost anything that brings foolishness is addicting, right? The five vices, for instance: slashing, drugs, sex, smoking and drinking (especially elaborated by Yapi) Would you mind making a check list for me? :) Add love to that.
Anyway, I'm not in a rush. I have a semester left to savor every pain/joy in high school. Then hello to university grounds.
Upcoming events: Shoot- Dress to Impress: Open Party Nov. 12: Salcedo Village; Creme: Parte Oct. 29: World Trade
-Tinay
10:23 PM links to this post |
Wednesday, October 05, 2005
The Trouble with Goodbye

Not everyone can handle adieu. It's never true that soon you'd get over having left those beloved...

This is a story written too late. My brother married her ages ago but the fact that he has a new life now hasn't sunk in. So I'm writing.

The eldest left our family 2 years ago and decided to live with her after she had borne my niece. She was named Aissey Viancea, after her parents (Aaron and Vanessa). They married when Aissey was nearly a year old.

The second left for the States a week after he finished college. He actually flew to catch up with his girlfriend whom he swore to God he would marry right after graduation. Sweet, huh? Indeed for us, it was as bitter as russet chocolate.

Yes, they are my half-brothers but the two of them fused together make not one. Each of them is worth more than 10 brothers and having two makes me feel I have a whole tribe of guys watching over me.
I simply love it!

I could not take why they had to leave. Mom told me that it's expected for a man to leave his family of upbringing for the new family he decided to build. What makes me fret even more is when I see my brother hanging around and having to work part-time just so his kid could have a chunk of padded paper to shit on. I'd rather not see him at all.

He's there alright. Worse is that he's hanging around, nosing your business like he used to but why can't I have him back in his room playing his screeching electric guitar? Why can't he have two ears and four eyes on me when guy friends conquer the living lounge? He's there at my fingertips but he isn't that same mischievous microbe anymore.

I feel that we're yet too young to part. I was 16 then and they were on their early 20's. I did not get the chance to spend the peak of teenage years with them. I imagined the next few years to be spent feeding my hungry personality together with my brothers. Ohh.. Missed.

I did not say goodbye the morning my second brother left for the good ol' American Dream. He drove me to school and I banged the door, as usual without any farewell dialogues (no tributes, speeches whatsoever). It was when I was in the assembly that tears escaped my eyes.

I do not believe in adieus (even in deaths). Ever heard the phrase No letting go? It works that way. Tomorrow I'd see him again. Beyond seas, beyond skies... There is no such thing as long distance. I see myself back in my childhood.



I would find a way that we'd all be together again.

We're all under the same sky.
-Tinay
9:45 PM links to this post |