Friday, April 29, 2005
What do you do when the person you like happens to be a player in the past? Do you take the chance of being played on or you'd rather stay on the safe side of the fence? When you hear the words, "Chickboy yan and everytime he passes by the Nursing section of our building, he parts the women like Red Sea," is it worth the risk?
I'm sick of martyr women, sacrificing their own pride for the sakes of deceiving boyfriends and husbands. I'm just too tired of ending up in sobs and tears again. I swore to God in countless times that I shall never be infatuated to someone unless there is a definite assurance. In this case, there is none so I better bear in mind that most men are polygamous. Indeed, I have personally proven that theory and so far, there has been no exception to the rule. I never heard a woman tell her happily ever after with a man who has been faithful for the past years. I am not stupid anymore and I'll stand by my word. So I guess I'll take the risk, or yet, let that man pass by. It's about time men knew how it feels like to be left hanging.
Woman, no more hurting, promise me..
-Tinay
7:54 PM links to this post |
Thursday, April 28, 2005
Read this!!! It's hilarious! :)
Anak,

Medyo mabagal akong magsulat ngayon dahil alam
kong mabagal ka ring magbasa. Nandito na kami sa
Estados Unidos para bantayan ang bagong biling bahay ng kapatid mo.
Pero hindi ko maibigay sa iyo ang address dahil dinala ng dating nakatira
ang address para daw hindi na sila magpalit ng address.

Maganda ang lugar na ito at malayo sa Manila.
Dalawang beses lang umulan sa linggong ito,
tatlong araw noong una at
apat na araw noong pangalawa.

Nakakainis lang ang mga paninda dito katulad nun
nabili ko na shampoo dahil ayaw bumula.
Nakasulat kasi "FOR DRY HAIR" kaya hindi ko
binabasa ang buhok ko pag ginagamit ko. Mamaya ay
ibabalik ko sa Walmart at magrereklamo ako.

Noong isang araw naman ay hindi ako makapasok sa
bahay dahil ayaw bumukas ng padlock. Nakasulat kasi
ay "YALE", eh aba namalat na ako sa kasisigaw ay hindi pa din
bumubukas. Magrereklamo din
ako sa nagbenta ng bahay, akala nila hindi ko
alam na SIGAW ang tagalog ng "YALE",
wise yata ito!

Mayroon nga pala akong nabili na magandang
jacket at tiyak na magugustuhan mo. Ipinadala ko na sa iyo
sa "Federal Express" medyo mahal daw dahil mabigat ang mga
butones kaya ang ginawa ko ay tinanggal ko na lang ang mga butones at inilagay
ko na lang sa bulsa ng jacket. Ikabit mo na lang pag dating diyan.

Nagpadala rin ako ng tseke para sa mga nasalanta
ng bagyo, hindi ko na pinirmahan dahil gusto ko na
maging anonymous donor. Nakakahiya naman kung
ipagkakalat ko pa.

Ang kapatid mo palang si Jhun ay may trabaho na
dito, mayroon siyang 500 na tao sa ilalim niya. Nag-
gugupit siya ngayon ng damo sa memorial park, okey naman ang kita
above minimum ang sahod.

Nakapanganak na rin pala ang ate baby mo, hindi
ko pa alam kung babae o lalake kaya hindi ko pa masasabi na kung ikaw
ay bagong uncle or auntie.
Wala na akong masyadong balita. Sumulat ka na
lang ng madalas.

Love,
Mama

p.s. Maglalagay sana ako ng pera, kaya lang ay
naisara ko na ang envelope. Next time na lang ha..
-Tinay
8:08 PM links to this post |
Tuesday, April 26, 2005
I'm One with the Beach

Let me take you to the beautiful land of Palawan...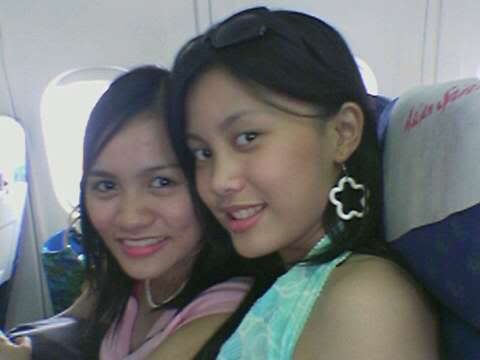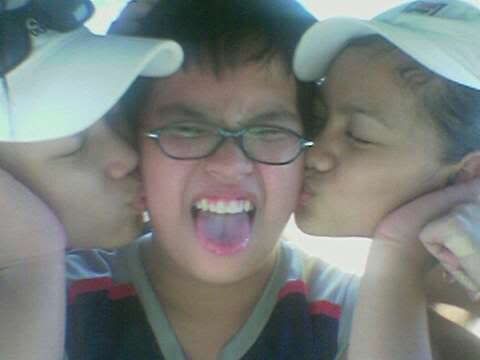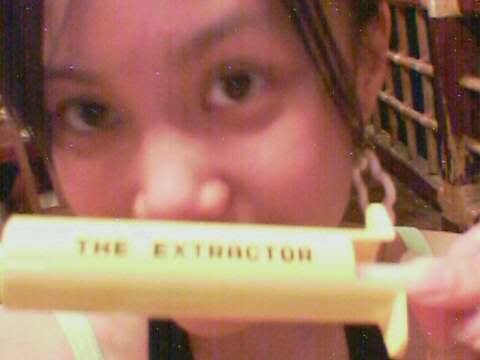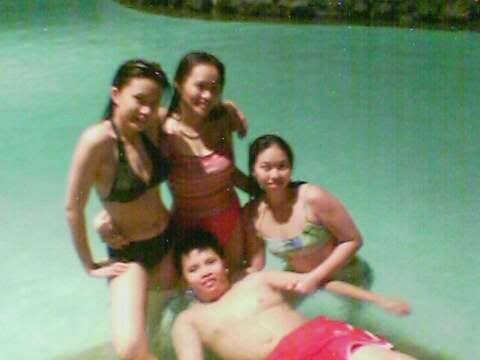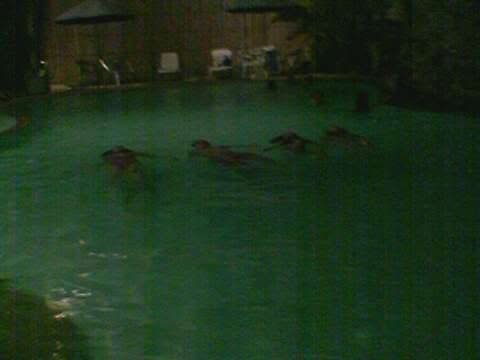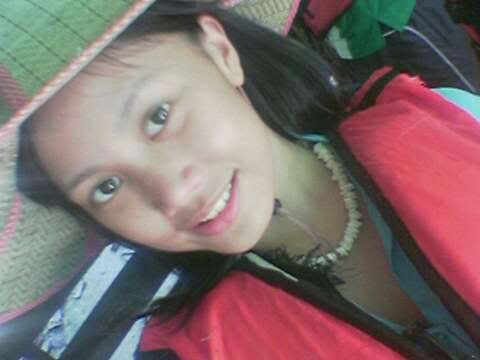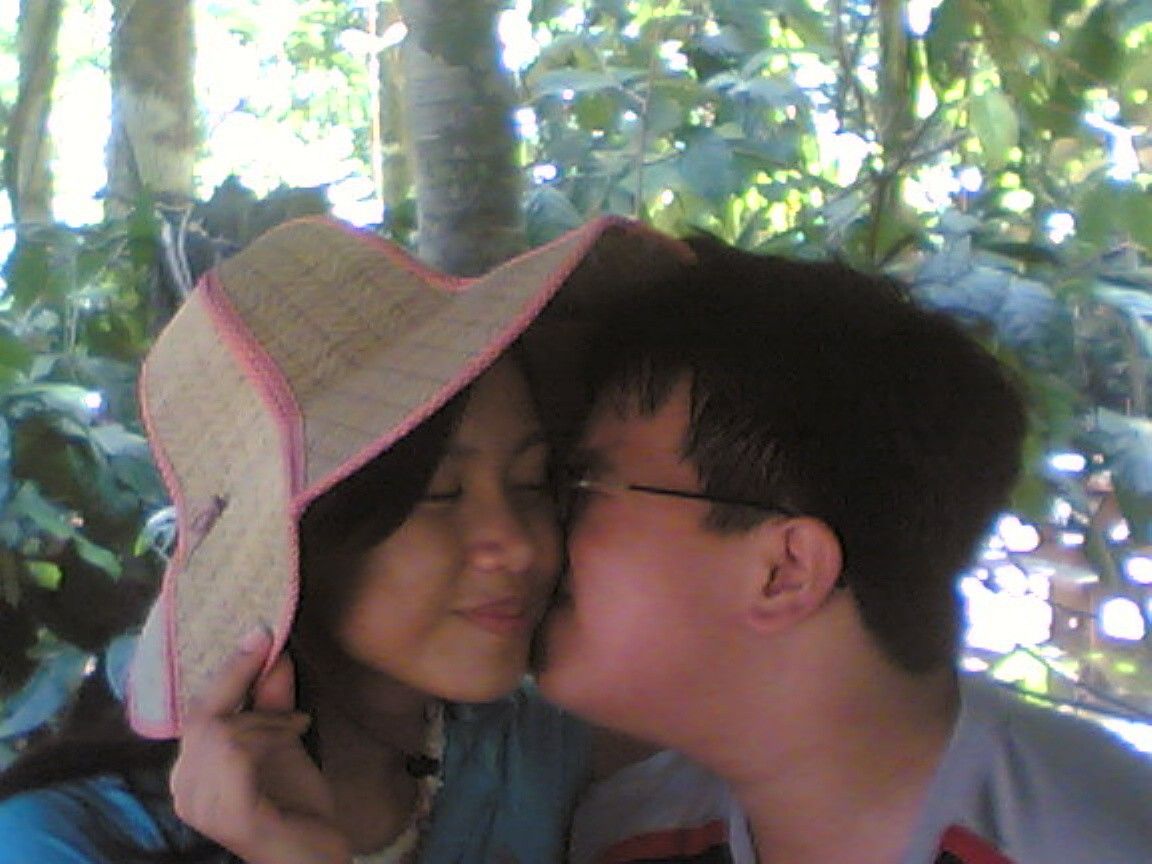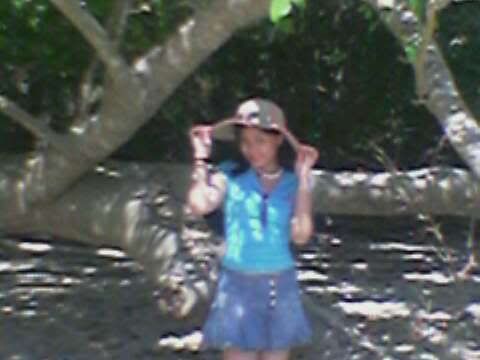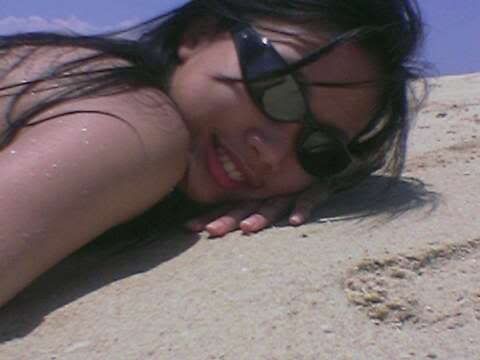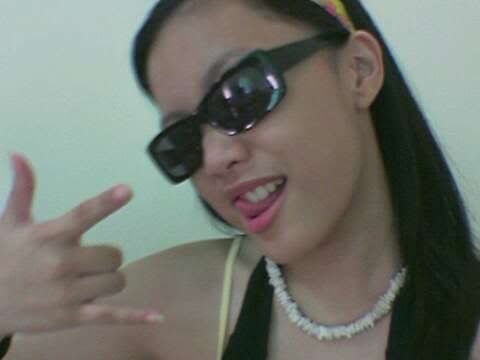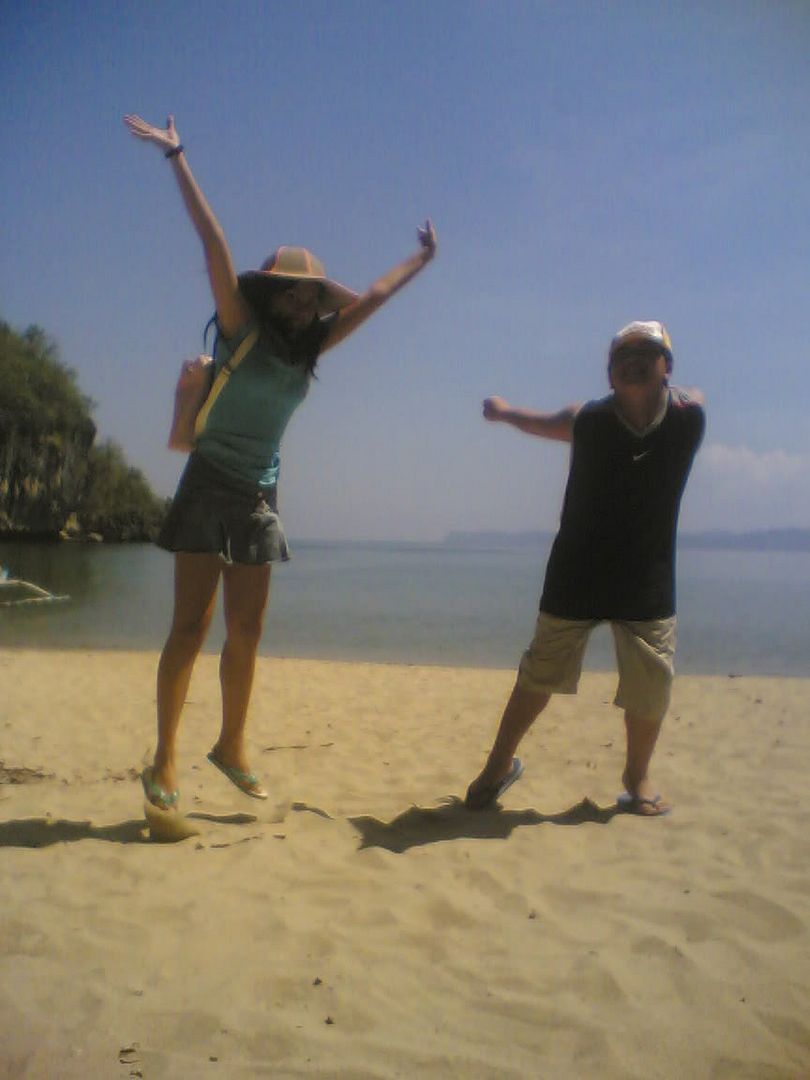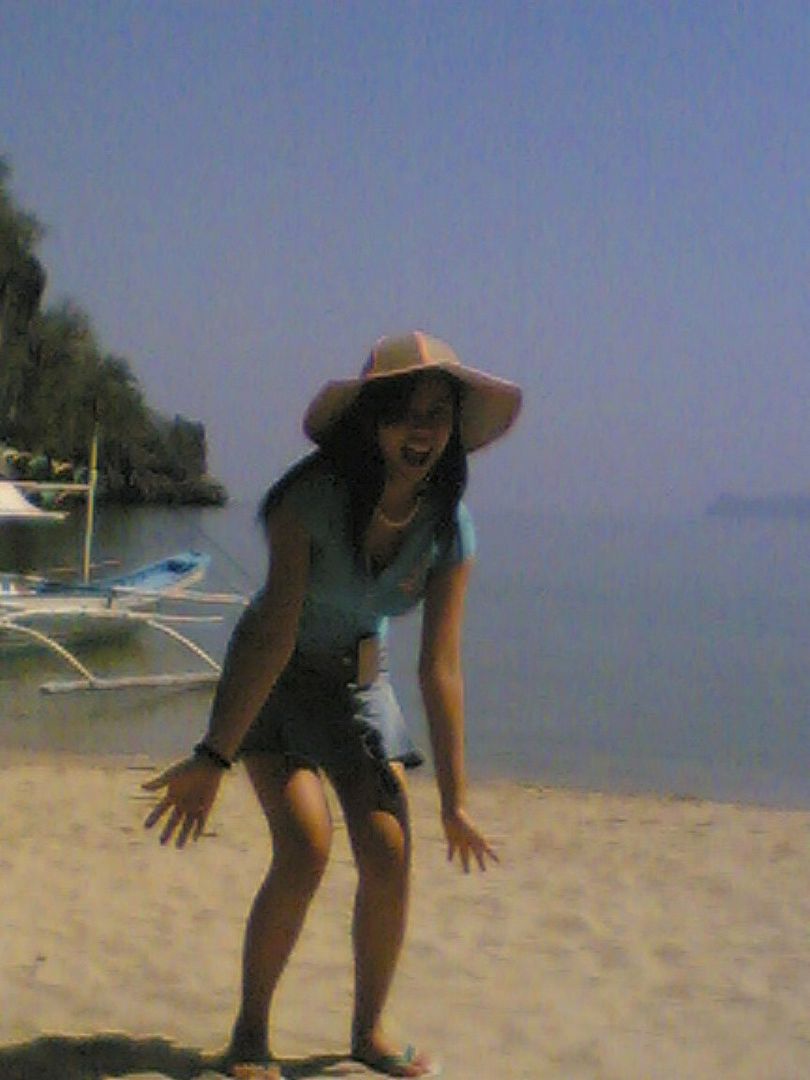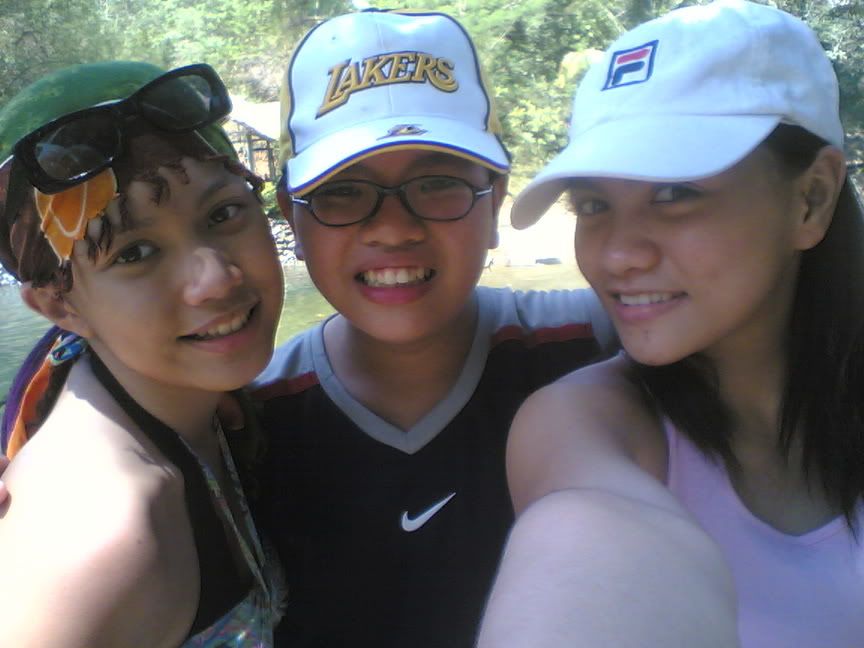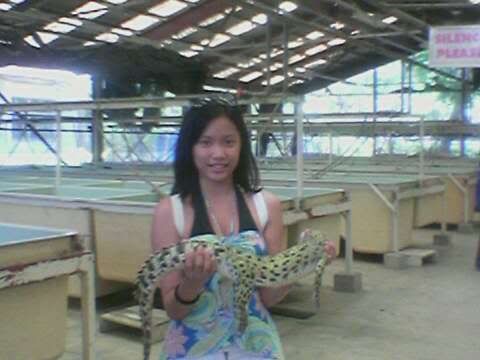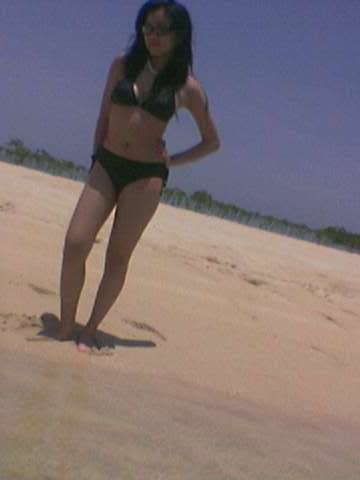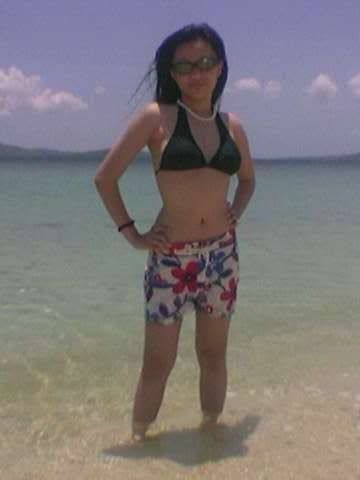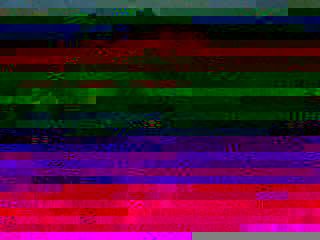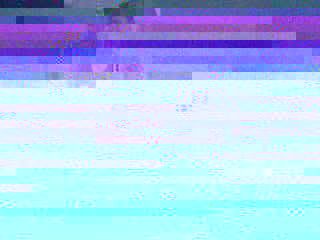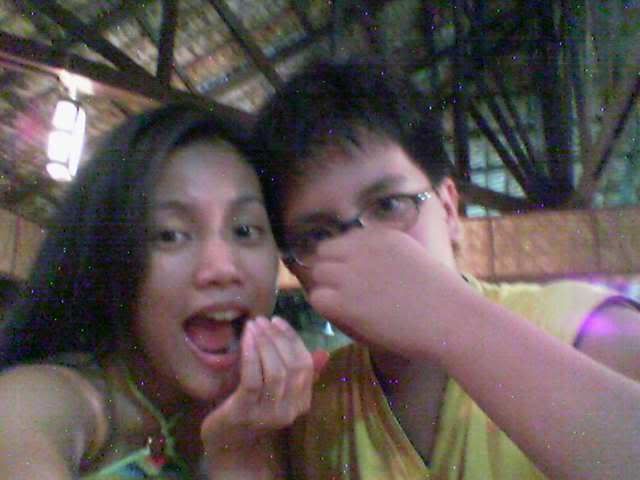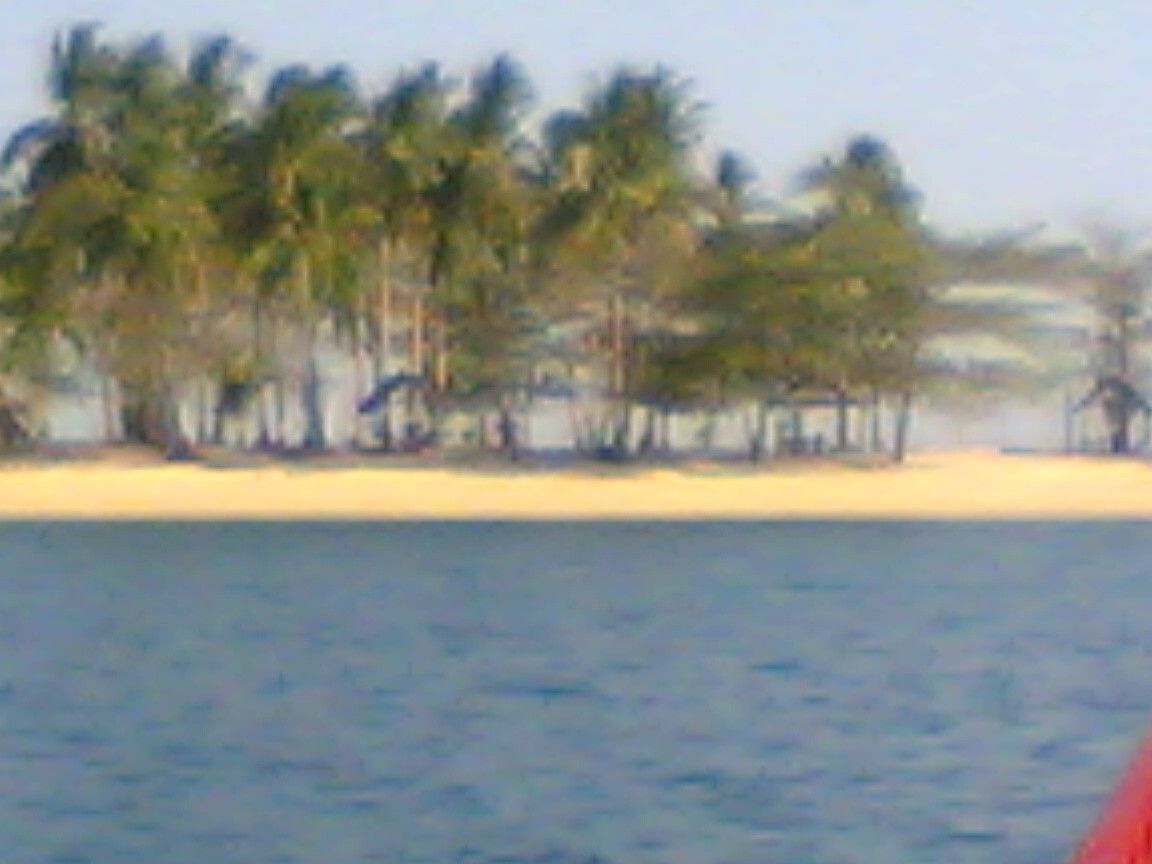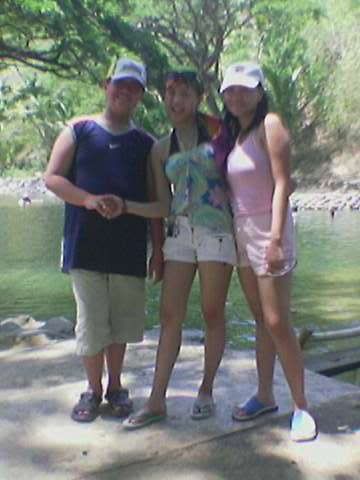 Palawan's beauty nearly left me speechless. People there were very friendly, too. A dude even gave me a big pirates' gallion, bottles of honey, etc.. Ugh.. I'm running out of words... Palawan is definitely a must-see! :) I'll update this soon.
-Tinay
10:20 PM links to this post |
Thursday, April 21, 2005
I won't let what happened to Mike and I two days ago ruin the rest of my summer. In fact, I'm glad I saw his true colors- concentrated black with streaks of buck green (for money). He claims to be my ex and my best friend, my greatest gratitude for the offer but no, thank you. I'm happy with the girl buds and the present life I have. They're completely more than your worth. LOL.
Pope holds Concelebratory Mass

The newly appointed head of the Church is German. One thing I'm praying for is the safety of the new pope and that he won't be assassinated anytime soon because when that happens, Sister Lucia's prophecy would finally prove itself right. After the probable murder, only two more occurrences would signal Revelation Day. One of the signs is World War III. Apparently, Germans dropped the bomb in the first two wars so WWIII is far from impossible. The best we could do now is to beg God's mercy and that Pope Benedict XVI fulfills his duty as a peacemaker (that's what Benedict stands for)

Markus just left. At first we were into an argument so I walked out from his car. It was a surprise when someone rang the doorbell and said the sweetest words and apologies. It's so nice of him to do that :D
Joshy is in Brouwersgracht. (Whatttt???) Netherlands, that is. But soon he'll be back in the States then here in the Philippines.. Wahoo!!! Then we'll go to Neverland. Wakekek.
Ate Bev is in Bora, Mom didn't allow me go with her. She's coming back today and will be joining us in Palawan then head back to the Stated. I'll miss her and our bonding sessions. And oh, definitely my bro :) See you after two years....

May's coming up. It's a month packed with schoolwork, leisure and the miscellaneous :) Oh, I'm leaving for Palawan tomorrow. I won't blog for a week. Gotta pack! Bye!!!
-Tinay
8:38 PM links to this post |
Monday, April 18, 2005
Your first time to see me post an entry in Filipino. Galit na galit kasi ako.
Tsk. I received a text message from a freak. (Freak= Michael John Ang Ching). Some time in our ugly past, we signed up for a joint account in a networking thing. Unfortunately, it did not earn because he was too lazy to do his part in recruiting people. Now he wants his money back and is pointing out how he saved every peso on his part. He pointed out that the account is named after me so I should do the work. Ang kapal ng mukha ni gago!! Ibenta ba daw ang friendship worth 10k??!!! Can't believe some people act this way. It's like nakatahi ang laman niya sa pera!!! Kawawa naman! Genuine Instik nga talaga. Haha. Not that lahat ng Chi ganon. But he's the typical G.I. who can't afford to lose a single centavo kundi mamatay siya sa galit. Tsk. Kawawa. Well he's not getting a single centavo from me because he didn't even exert effort to make the business work. So ayan Mike, pakamatay ka na coz nawalan ka ng pera eh money is god to you dba?!!! And your god turned its back on you! I won't consider him as my ex. He's not even worth calling a friend. He's a carabao on a one peso coin!!!!!!!!!!!!! Mukang pera, in lay man's term!!!!!!!
-Tinay
8:44 PM links to this post |
Forgive my poetry. Frustrated writer here. LOLZ
Having you was once just an imagination
It is the disparity next to reality

Sitting beside and you, hearing the sweetest nothings
Give me the reason to fight the lies the world has to offer

It is paradox when you confess your love for me
Feeling that moment gives me the simplest reasons for my existence

I find myself getting against all odds
Making every effort worthy because if it wasn't for you

The sentiments we keep, every kiss we share
Have become addicting more than paranoia or any drug

You're making me long for you even more each day
And knowing the very roots of your actions crush every part of me

Learning your true desires kills me
Slaying every vein that runs throughout my body

Hearing your reasons which do not make sense at all
Is just as painful as a gaping hole right through my heart

I take every word you say causing me the deepest heartaches
The strength I gather is not even as half as it would need me to go on

Forgetting seems to be the hardest verb
And you seem to be doing it in just mere tics of time

Hugging you has become my breathing
Inhaling the air you take make it harder for me to let you go

And you know that
Yours is the last breath I'll take...
I'm leaving this untitled.
T9/ April 18, 2005
-Tinay
8:15 PM links to this post |
Sunday, April 17, 2005
This is how I wasted my Saturday night.
Greenbelt, Makati:
Temple
Absinth
Ice
Libis:
Eastwood
Centro Snow Party
Metrowalk:
Decades
Timog:
Decades
Fort:
Embassy- we ran out of time

That's what you call major barhopping. Haha. I guess my sister (in-law) just doesn't wanna stick to one place coz she wants to visit every party place here in Manila. She wants to meet every person there. I don't know if I'll still go to Bora tomorrow coz I'm really out of cash. And expenses in Palawan are big so I might not be able to get there once I spend all my dough in Bora. I'd rather go to Palawan coz I've never been there before plus there's algae in Bora's beach. Haha
-Tinay
4:14 PM links to this post |
Saturday, April 16, 2005
Boys will remain as boys
(Translation: Boys' intellect stop at 19. Men, indeed, are boys trapped in larger pieces of skins)

I won't tell everything that happened to me yesterday detail by detail. If that's the case, this would serve more than its purpose as a blog entry.



Picture Madness



I was in school in the morning to get my card and to view the long-awaited prom pictures. Grades were fair enough but I lacked ONE A- to receive an honor. This pisses me off. The presentation of the prom pictures was horrible!! When I got to Sports Complex, the walls of the stage were entirely covered with thousands of snappies. It was as if the photographer clumsily slapped the wall with photos that weren't even arranged properly. Mind you, there are around 350 students in our batch (X 2 for our dates) and photos were taken at random so you just can't visualize how many you'd encounter before you see your faces.



Shop Attack!!



Trina and I went to Galleria afterwards. We shopped (a girl's favorite pastime). We just wanted to treat ourselves with new beach getups. We also watched SpongeBob and there were only a few people in the movie house so we ended up laughing really loud. LOLZ.

I went to Greenhills afterwards to accompany my sis-in-law. She did a major shopping binge coz she wanted to bring lots of local stuufs back in the States. After all, every balikbayan never fails to bring home numerous mementos courtesy of the Philippines' undying love for shopping. Haha



Realities of Men



Libis was next stop coz we had to pick up our friends who just did a modeling appearance on the Fashion Week. We immediately moved to Makati because there was a severe case of drought in Libis. Greenbelt was okay, but not what I expected on a payday Friday. Temple blah blah blah.. My long lost friend Bea Rodriguez was there!!! I call her my Run-away Babe coz she always runs away from home. Super happy and excited when I saw her. Though at times she gets to be an ass, she's all good to be with, definitely a friend who won't leave you hanging. She deejay-ed and bartended a bar in Puerto. She got herself a tat that had all her friends' names blotted. So there, she got to be all nasty without the supervision of her parents. Tsk tsk.

Other unexpected dudes were there, too (Vanessa Gar, Bro, Ton Jimenez, Angel Dionisio, VJ Johann, Ted Castro). My so-called friends didn't fail to show their thick faces, as well. Let me elaborate this part: When we were on our way home at 4am, the freaks called our attention and wanted a fight. One was making up a story that my friend, Angel (a guy) was staring at him while we were outside Temple having a couple of drinks. This dude was up for a fight and was claiming he could kill my friend with his bare hands. And so he took his shirt off, revealing what he thinks he's "got." So practically it started with a "stare" that wasn't even factual. If ever it was, what's a simple look gotta do with that? He wasn't even sure if he was glancing at him because he had a funny blank written on his face. At first I thought the boys were just fooling around, so I didn't take it seriously but when the other party started to kick Angel, I knew there was something going on, definitely a "something" not worth elaborating so I'll end my story here. What happens there, stays there.

I don't know who's to blame. Was it the alcohol? Were they even drunk? Or is it just that some men could get even worse than being immature? I reckon that once you box all guys under one roof, they would end up killing each other. The last one standing would probably even beat up himself arguing why he left no one to wrestle around with. I think no man can stand a lifetime without getting into a fist fight. They say manhood is simply about feeding their egos. The more you insult, the manlier you become. The more people you kill in a rumble, the more worthy of living you become. The more heartache you give to women, the more commendable you are to have as a boyfriend. Sheesh. I dont have anything aginst men. They just made me think this way about them. Now there's an alternative step towards world peace. Haha

-Tinay
6:10 PM links to this post |
Thursday, April 14, 2005
Mishaps in our Country



Whoever started the rumor through texts regarding a massive earthquake supposedly to take place today, shame on you. I don't see the point why you have to spread false claims like how rubbish people forward "cursed" messages that promise death and misfortune to you and your family. I think bums are the ones who are doing these useless activities. They find it amusing that their fellow Filipinos are starting to panic and indeed forward these to other people. C'mon.. You guys better stop because we are already aware of the upcoming disasters and catastrophes this year and goofing around would definitely not help. There would come a time that instead of having the people prepare for possible tragedies, they probably won't rely on sources like e-mails and cellphones anymore. I was upset when I saw in the news that some corporations were forced to let their employees leave work before 5pm. I guess those behind this text attack are celebrating their success in fooling with the people's minds. Tsk tsk..
-Tinay
6:44 PM links to this post |
Wednesday, April 13, 2005
Of Suicides and Sweets

Every Sunday is spent for the Lord. I was in mass with Mom in Christ the King and the family seated at our front pew seemed familiar. I was discreetly giggling at their Dad coz his hungry ass was eating his pants LOLZ. My Mom even said that the children were kinda cute. I freaked out when I read in the paper just now that the man I was laughing at shot himself dead in his car this morning. Cause: depression. He was appointed as the new president of a bank and apparently he became the youngest in the industry. The bank was foreclosed due to conflicts. Rumors have it that he even sent farewell messages to his closest friends through email.

I recall the time my English teacher talked about suicide. Christmas season holds the record for the highest suicide rate. This is brought about by the Seasonal Affective Disorder which leads one to think that one is not normal when the rest of the world is rejoicing and what one really wants is to just crawl into a corner and sleep for a hundred years. More to this claims that endomorphins are solutions to prevent suicide. (Endomorphin def. makes you think you're happy) The number one source of these? Sweets!!! So go ahead, dig in to those chocs,chips and candies! Summer's not all about getting buffed bods and fab tans.

I reckon everyone has been through the depths of despair. If I'm not mistaken, I WAS suicidal for three months (post-breakup days) but eventually got over it. Hey, I'm not saying that anyone who ends up killing himself is stupid. You can't blame him for that coz some are simply born with this disorder. They say those who suffer from extreme pain who resort to suicide directly fall into the inferno. Is it factual? Is there no valid reason to suicide?

Then more questions pop into my head...
When you love someone, do you set him free or do you fight for him?
Should you accept the person for who he is or should you change him to become a better person?
Does Mr. Right exist?
What are the standars when people say you're pretty/ugly? (I believe no person should label anyone as such because nobody really said the standars of beauty)
Why do they say that a banana peel can make u slip when in fact it doesn't? (I've tried it..)

Help!!! Witty people please answer! Cheddar, AM, Jourd please answer!!! :/
-Tinay
10:26 PM links to this post |
Lots of updates.



Beauty on its own



I'm currently hooked to photography. The subject is nature, enough of myself (LOLZ) Lonely days and nights push me to discover the good sides of life. Realizing that there is little, I started capturing them before they eventually run out. Being a hundred feet above the ground is quite an advantage. I'll sign up for a DeviantArt account soon and upload my "art" there. I suggest everyone must have an art of his/her own. Seeing them once printed would definitely cheer you up from those blues.




Wow Philippines



My sister-in-law who came from the States a few days ago is aking me to tour her around. I guess we'll be flying off to Boracay/Puerto Galera. She still hasn't made up her mind where she wants to get a good sweat and tan. Palawan, however, is permanently marked on my calendar :D Seeing her reminds me of my bro whom I teribly miss. Apparently, he made up his mind not to come back to the Philippines anymore. He told me that the lifestyle in the States is so much easier and money can be earned without too much effort unlike here in our country wherein working overtime isn't sufficient to feed every person in an average Filipino family thrice a day.




Following the Red Signal



I slept at 6 in the morning awhile ago. Mike and I talked over the cel from 3-6am and he was talking about crap. At first, he was commenting about the boys whom he thought were courting me. Each of them was immediately rejected by my personal adviser, Michael John. He reminded me that every move I take must be advised to him and stamped with his (dis)approval. Yeah, he was making a bit sense, reminiscing the old times. Looking back, he has regrets about our past relationship and says he's still inlove with me and wanted to give it another shot. Too late...


Kenken updates
Mom took this pic

Gigil sessions in my room :D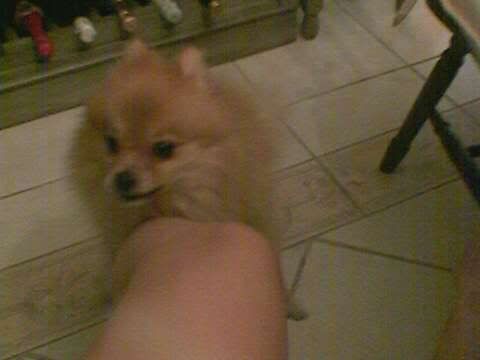 Super bad Kenken doing his business on my leg!!

No, I don't have him anymore. These were pics back then. Apparently, Mike is afraid I might dognap him! :/

"It's tough to stay single in this world where everybody expects you to be with somebody. What they fail to realize is that staying single is not about having no choice. Rather, it's an opprtunity to make intelligent choices independently." Cheers to our single-dom! :D
-Tinay
5:41 PM links to this post |
Sunday, April 10, 2005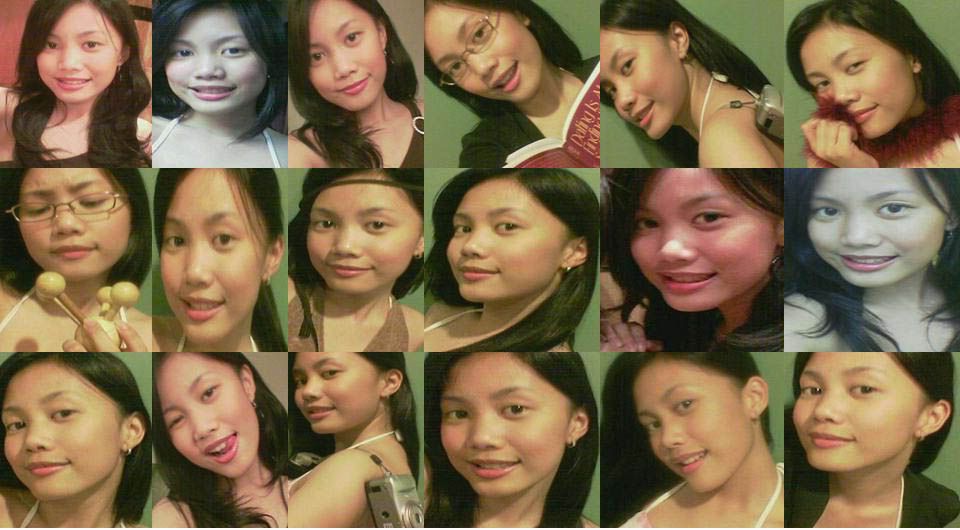 The many faces of me :D Forgive please, the photographer gave me the rejects.

Yesterday, I emceed my tita's despidida in Manila Diamond Hotel. Lolz. Was the youngest person there. The rest were on their 40's+. I was forced to try ballroom dancing and I admit it was kinda fun even though it was mostly associated with old people. I learned reggae, chacha and swing. I realized that my body's made to dance to club music and cheerdance only. Dance instructors managed to make me look like a pro :D After the celebration(wrong term for a despidida, I guess.. LOLZ) , went to Ipanema to meet up with friends. But only stayed there for two hours. Decent chat, drinks, people. Met new friends, one was kinda cute but was wearing havoc pants so forget about it. Haha..

Two days ago was a gig in Bagaberde with the Subic girls. The boys were there to play. Beso-d. Super bad Dun was uttering the words I was dared to say in Subic even when he was onstage. Giggles* Dun remembers, at least and he wasn't d**** that night after all.. Hmmm.. Vince, on the other hand, was too serious about his performance. Our requested song was the last they played *aww* Next gig would be at Dun's place this coming week..

Oh, here's the pic btw.. Managed to upload it.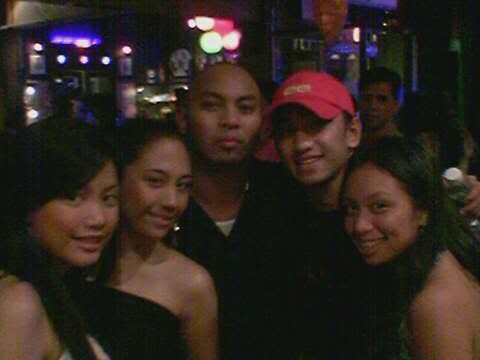 -Tinay
6:10 PM links to this post |
Friday, April 08, 2005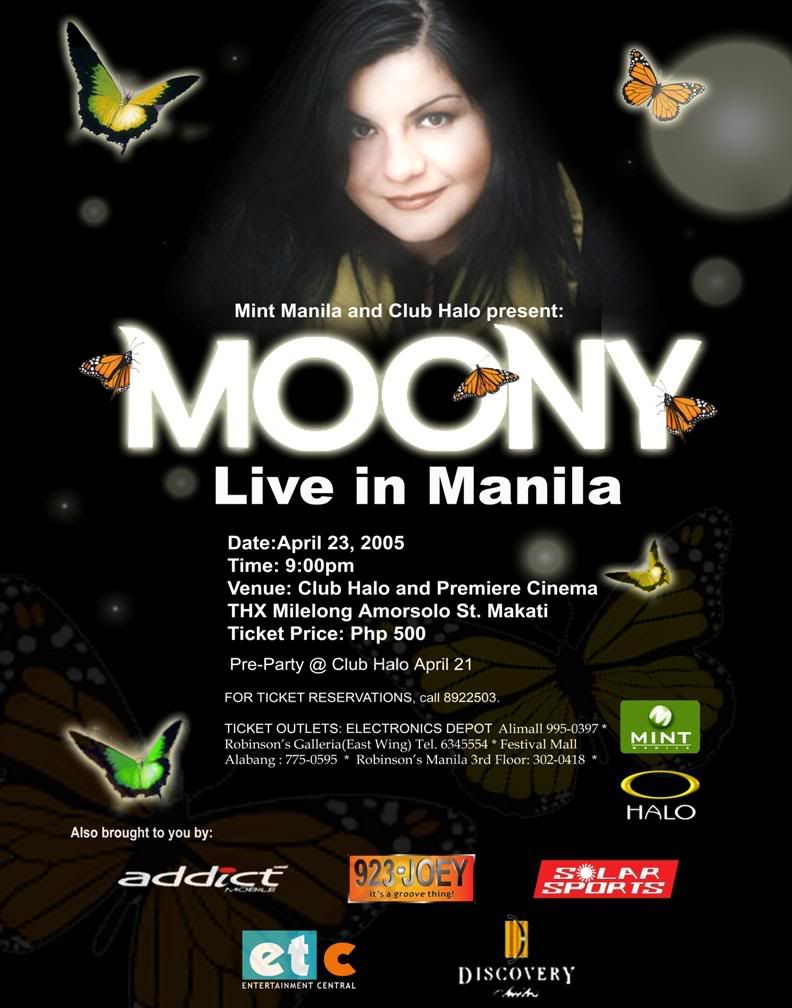 Part people!! You better get your asses in this event! definitely a must see :D
-Tinay
2:58 PM links to this post |
Thursday, April 07, 2005
I feel bad right now. Really, really, awfully BAD.

I'm left with no one.. How I wish Kenken was here to share the lonely night with me. If only Mike was considerate enough to extend Ken's stay here until the maid comes from her leave. To top off the bumer day, mom nagged all night about useless I am here at home and how my life is pretty much a waste. She told me that I was always idle and was just wasting money on the net.

I'm here. Left empty handed ;(
-Tinay
7:44 PM links to this post |
I woke up today to the dingdong of the doorbell :D It was Mike. He texted early morning that he was coming over. I was hoping he'd use his memory that would remind him that I wake up in the late afternoon. So unexpectedly, he was getting Kenken back. How would you feel that a thing surprisingly made precious to you is taken back? I feel so awful knowing that I don't have a pup lying between my legs when I'm chatting, no pup waiting for me to go to bed. No pup licking my face in the morning, no pup to clean after and no pup to bathe with me :(

Mike grew a bit fat (haha) In fairness, his face became clear. His eyes were tired due to jetlag and hair was untidyly pushed back and topped with a cap. New sneakers, I say. I told him that he owes me his fashion statement. He is a self-confessed hiphopper before (nyahh) :) Anyway, he brought me slippers and a DKNY shirt YAY! (probably Tita Elsie-his mom chose it) :P and some other things.. (still haven't opened the pack he gave me) Seeing him now didn't really bring another feeling anymore. It felt normal and usual. When he hugged me and said he missed me, it didn't even hit me. *smile* His words didn't come to me, as well.

I think I've finally mastered the arts of letting go and moving on (the things most difficult to discover) I'm glad I feel this way because I don't wanna fall inlove with the same (juvenile, don't forget) man again. Besides, I'm infatuated with someone else now :p

I will miss KENKEN :( Pucha Mike ibalik mo siya sakin.... Hehe
-Tinay
4:45 PM links to this post |
Wednesday, April 06, 2005
Summer is beginning to get really boring after the Subic trip. Always left at home with nothing to do but stare at my PC and be a spectator of whatever's new in the net. Boredom forced me to download miRC, so I tried to push my luck to find a cute guy or some sort. Haha. My luck failed me. LOLZ

Mike will be back today. Nyahh.. Definitely NOT looking forward to that. He'll drop by soon. I better get my ass ready. Not willing to commit the same mistakes again. Not stupid enough to fall for the same un-derserving, juvenile man. (the word I always use to refer to him) *PEACE, BES* :D I won't let him ruin my break especially now that it's on its way to a perfect summer getaway.. Weeeee!!!

Yesterday.. I was at the poolside walking Kenken. I took out his leash thinking his paws won't take him places. Wahhh!! He ran out of the village and for God's sake it took me a hard time to chase after him. You know how hard it is to run after a dog :D

Good thing we're going out this Friday to see Southborder!! :D (again) If they disappoint us, we would be the #1 root of their downfall.. And we have every piece of evidence to prove it. So they better not... :D
-Tinay
1:29 PM links to this post |
Sunday, April 03, 2005
Jendar told me about it... Babe, what you said is finally making sense now. It's probably the last sign before the end of the world- Pope Paul's death. Realizing that I'm too young to die yet too bad to be excluded from the death list, I'm trying to make up a list of things I haven't done yet. And there sure is a LOT! I still haven't hooked up with Britney Spears (as if!) and haven't met Michael Jackson (apparently, the real one is dead) Still not able to skydive, bungee jump, windsurf and the miscellaneous I preserved for my later years. What's left to do now that the end is coming? Repent. But what I am doing right now doesn't seem to be contributing to my chances to be saved. Got my ass here in front of the computer on a Sunday evening trying to discover whatever is unknown (that's what I usually do) And what's the use of blogging when there is probably no one in the future who would read your posts? LOL. I keep on pushing for tomorrow what can be done today like having a candle blessed by a parish priest and providing my own crucifix for my room.
Think about it.. Are you ready to be handpicked whether you must be left alive or dead? Are you ready for 8 full hours of a shaking earth until it eventually flips and tilts leaving all shattered? Am not.. I guess I still have not lived mine to the maximum. Right now, the dog is barking without a reason. It's starting to freak me out because there is no one here. Gotta go!! Must be aware of what's happening around.
Count to three and pray that the next hours would not be the tics of a shaking ground :/
-Tinay
6:17 PM links to this post |
Saturday, April 02, 2005
Got the new set of pics!!!
Piere One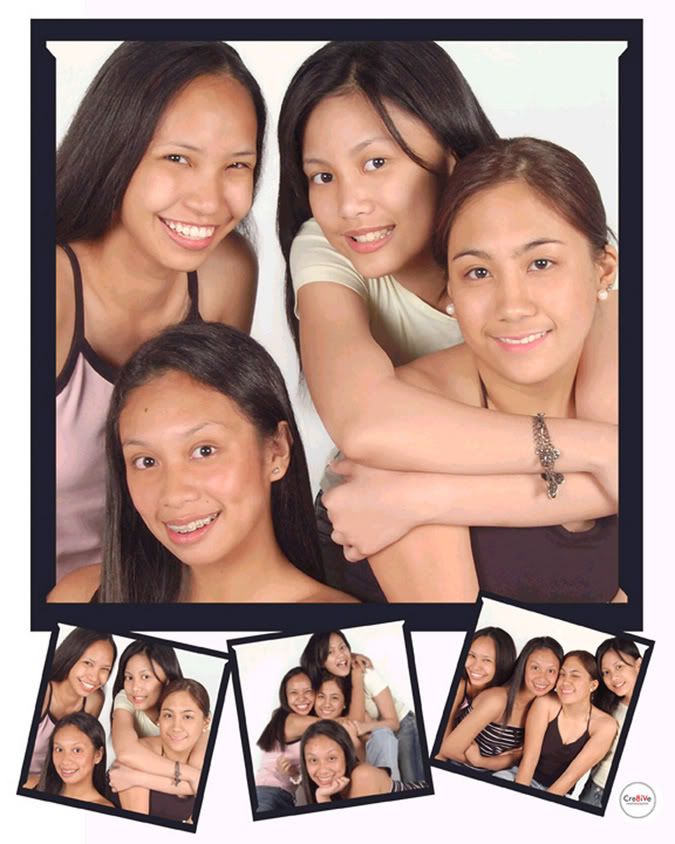 Pictorial in Subic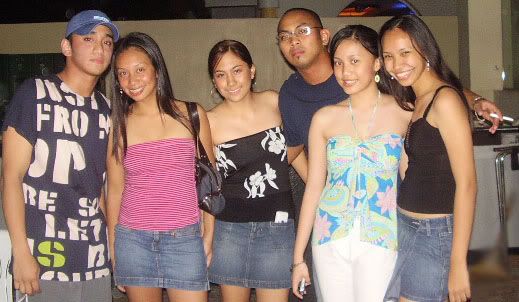 Dun, Jourd, Kim, Vince, Me, Vea
Beach Bums [with the hair!!!]
-Tinay
6:12 PM links to this post |
Friday, April 01, 2005
Now this is what I call a conversation! Nothing against you, Roj! Peace! :)

roj yao : ahm.. i got this very weird question,...
roj yao : mtgl ko na gs2ng tanungin
tinay: sure what is it
roj yao : how vain are u?
tinay: uh, y
tinay: i dnt really get d question pls elaborate
tinay: ?
roj yao : u feel vain?
tinay: well yea, at times. why?
roj yao : then.. how vain r u?
tinay: not to the point that a zit bugs me
tinay: you?
roj yao : ah..ayt then.. im not. haha=)at all
tinay: u arent? it's human nature to be vain.
tinay: or else you wouldnt care about how u look like before going out
tinay: nor bother to look at the mirror. vanity is a mixture of hygiene too u know

roj yao has signed out. (4/1/2005 8:35 PM)
Then she signs out...

tinay: hahahahahah

Do I make sense? Isn't it that the fact that you still bother to look at yourself at the mirror make you self-conscious? Like what I said, vanity is part of the mixture in your hygiene so it is a must ingredient especially in a woman. The last person I remember who wasn't vain at all (like how she was claiming to be) was this painter who painted all his life and even cut his ear just to have it sketched.

Then I come to a conclusion.. Why'd she ask? Is it because of the URL of my blog? lolz

Now, who here protests to be NOT VAIN at all?!!!

Gotta be careful now.... Some people are on the loose!!!
*Peace*
-Tinay
8:36 PM links to this post |
Kenken is terribly sick. At first, he didn't want to eat. Then he threw up. He's in bed for the whole day and didn't even want to stand up nor sit. He doesn't act himself, too. I know it when he's healthy coz he usually follows me around. Took him to the vet and I'm telling you.. He caused me a lot of trouble. It was an emergency so I had no one to take me to the clinic. For God's sake, I learned to commute. Imagine how I looked like, poor little girl scared of crossing the street with a dog clasped on one arm like a baby :D I hate it when Ken cries out coz of the syringe that stung his gorgeous fur. Seeing the vet put a thermometer up Ken's ass freaked me out even more.
When I got home, I had to force-feed him. Had to open his mouth wide and try to shoot his tablet supplement down his throat. It took me 10 full minutes to do so because he keeps spitting out what I've been putting in. I'm really willing to do anything for Kenken. I sacrificed my Friday gimmick with the girls just so I could take care of him :)
He's a blessing in disguise, maybe..
Mood: Falling inlove the second time around (not with the same man...)
-Tinay
7:45 PM links to this post |
Guys!! The real Michael Jackson is dead. This is truly a big scandal... Check out the story!!!
http://www.onion.com/news/index.php?issue=4111
Stupid of me to believe everything I read on the net. It just appeared to be so real. Alright.. I got fooled then :D
-Tinay
12:39 AM links to this post |